How One Nurse and her Patient Were Reunited aboard the Orbis Flying Eye Hospital
A Young Boy + His Need for a Cornea Transplant
Jose was a healthy, happy five-year-old playing outside near his home in Lima, Peru when he fell victim to a chance accident. Someone nearby threw something into the air and a metal point hit little Jose in his left eye. He had, as his mother Justine, recalls, a three-millimeter laceration on his eye. Justine didn't bring him to the doctor immediately, though, because Jose was a strong boy and neither of them knew how bad the injury really was. But the next day, Jose's eye started emitting a watery liquid and his eye had become visibly inflamed. Justine brought him straight to the emergency room where doctors sewed up his eye with a few stitches, but also told them that Jose had a traumatic cataract and would likely need a cornea and intraocular lens transplant given how badly his cornea and lens had been damaged by the rogue metal object. If not, they said, he could lose vision in that eye. 
This was Peru in the early 1990s, when there weren't many, if not zero, opportunities to receive cornea and IOL transplants, and the family was informed they would need to hope they could get someone to bring them this type of transplant from the United States. Justine cared for her son and did what she thought could help: she prayed. 
After five days of praying, speaking with local doctors, and looking for a solution, Justine's prayers were answered. A friend working in the local medical community called her to tell her that the international nonprofit, Orbis, and the world's-only Flying Eye Hospital (at that time the aircraft was a DC-8–much smaller than the current MD-10) was coming to Trujillo for the first time in 1991, miraculously, just one week after the accident. Jose and his mom reported to the Instituto Nacional de Oftalmologia (INO), Orbis's local partner hospital in Lima, and INO referred them to the Flying Eye Hospital project in Trujillo. The project aimed to train local eye care professionals in Peru, while restoring eyesight of patients like Jose Raul. 
One of the staff members who was working on the Orbis Flying Eye Hospital during that Trujillo trip was a nurse named Sandy Burnett from the United States. She still remembers how her team helped complete a successful operation and cornea transplant on Jose. The results of the surgery ended up making an impact on the next several years of his life, as his now-full eyesight helped him excel in Kindergarten, grade school, and eventually being accepted into a Lima university to become an industrial engineer. 
Little did everyone know that many years later, Jose and Sandy would be reunited in the most surprising, unexpected and quite simply magical of ways…
A Blow They Didn't See Coming
Two years ago, Jose, now a 32-year old, university-educated professional in Lima, Peru, was mugged and robbed, and his attackers gave him a hard blow to the head. The blunt force trauma caused the ocular lens he'd had repaired many years ago to shift out of place and seriously threaten his vision once again. Jose, still accompanied by his loving mother Justine, went straight back to the team at INO where they recommended eye drops and also surgery once again. Justine was worried–another eye surgery for her son made her nervous. She told friends that Orbis was the only team she'd trust with her son's eyes, given her positive past experience. 
But then, recently, Jose's eyesight started to deteriorate.  Justine prayed once again for Orbis to come. 
And, they did.
Justine drove Jose from Lima to Trujillo — more than an eight-hour drive — and, together, they waited in line for a screening. They were the last patients of the entire day to be seen, and Jose was chosen, once again, to have eye surgery from Orbis Volunteer Faculty doctors on the Flying Eye Hospital. The three-part surgery that he needed this time, which included both another cornea transplant and intraocular surgery, was complex but it worked out well in the end. And there, to help Jose through the preoperative, surgery and post-operative process, was a familiar face: Preoperative nurse Sandy Burnett, who has become a long-term volunteer nurse for Orbis for many years. 
Reunited…and Sight Restored
Upon being selected for the Flying Eye Hospital surgery, Justine immediately recognized Sandy as the nurse who had tended to Jose all those years ago in Lima. Sandy has kept photos and journals of every community she visits with Orbis. Justine, it turns out, brought some photos of her own. 
As Sandy recalls, "His mother pulled out some old photos and we're looking at them together, and I exclaimed 'soy yo! That's me!' And his mother grabbed me in the biggest bear hug I've ever had. To have that continuity and connection was really so magical. The stars and planets, everything was aligned." 
"I'm glad we could visit Peru and help in this way. This is the magic of Orbis and the work that we do, helping people to see again, and recover something important –eyesight and a real sense of dignity– and the future that they'd lost. Jose has grown into such a nice, big, strong, tall man and will be able to continue on better in life now that he has both eyes working properly."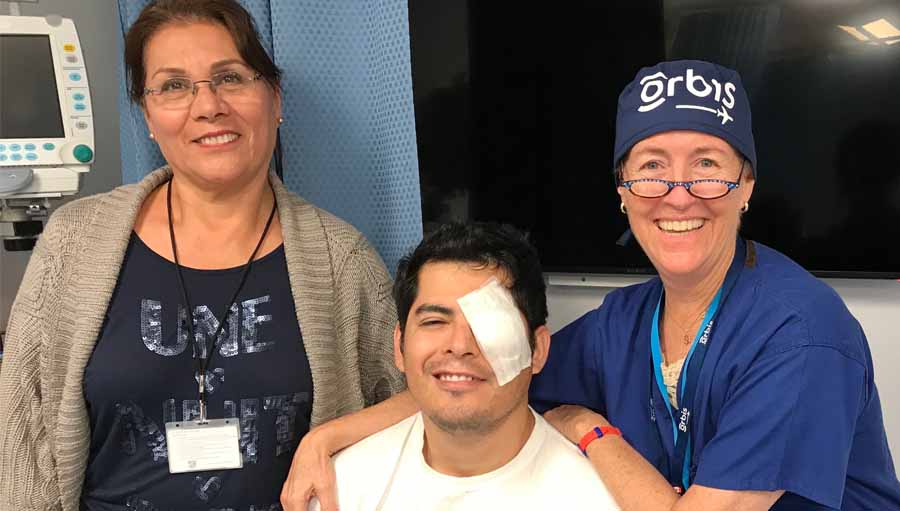 Sandy has given Jose and his mother Justine her email address in the hopes that they can keep in touch in the future.