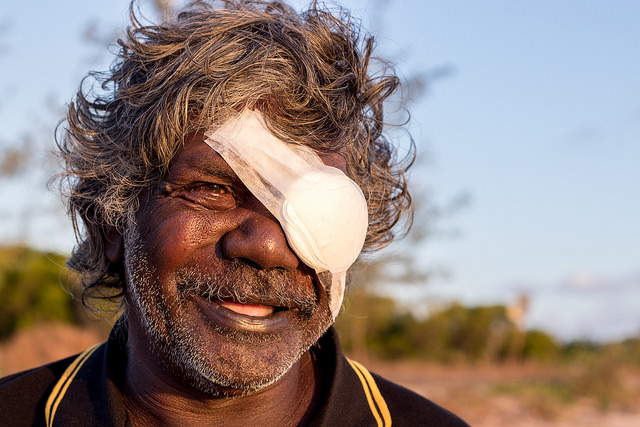 Indigenous artist Peter Datjin
Sydney, Australia, 26 April, 2017:  Diabetes related blindness in Aboriginal Australians is 14 times higher than in non-Indigenous populations and 94% of vision loss in Aboriginal communities is preventable or treatable[i]. These worrying facts have motivated action by the Australian Government to fund a national programme providing eye health testing equipment, and also training and support for the health services using the equipment, in more than 100 sites across Australia.
This news is greatly welcomed by the eye health sector. Brien Holden Vision Institute applied to coordinate the new programme Provision of Eye Health Equipment and Training supported by the Department of Health, and will co-lead with The Australian College of Optometry through a consortium approach with the Aboriginal Health Council of South Australia, the Centre for Eye Health and Optometry Australia.
The consortium will work collaboratively to implement the integrated programme with guidance from an advisory group of representatives from the Aboriginal and Torres Strait Islander health service sector. The programme will run until June 2019 and will greatly increase access to detection and appropriate care of eye disease for Aboriginal and Torres Strait Islander people within Australia.
The programme will fund the installation of retinal cameras, aiding increased rates of diabetic retinopathy screening by Indigenous primary health care services and supporting referral pathways for comprehensive eye examinations.
-ENDS-
[i] Taylor, HR, J Xie, S Fox, RA Dunn, AL Arnold and JE Keeffe. 'The Prevalence and Causes of Vision Loss in Indigenous Australians: The National Indigenous Eye Health Survey'. Medical Journal of Australia 192, (2010): 312–318
To read more please visit: https://www.brienholdenvision.org/news/item/99-government-funded-initiative-to-increase-eye-health-access-for-indigenous-australians.html
Photo credit: Daniel Jesus Vignolli for the #StrongerTogether photo competition