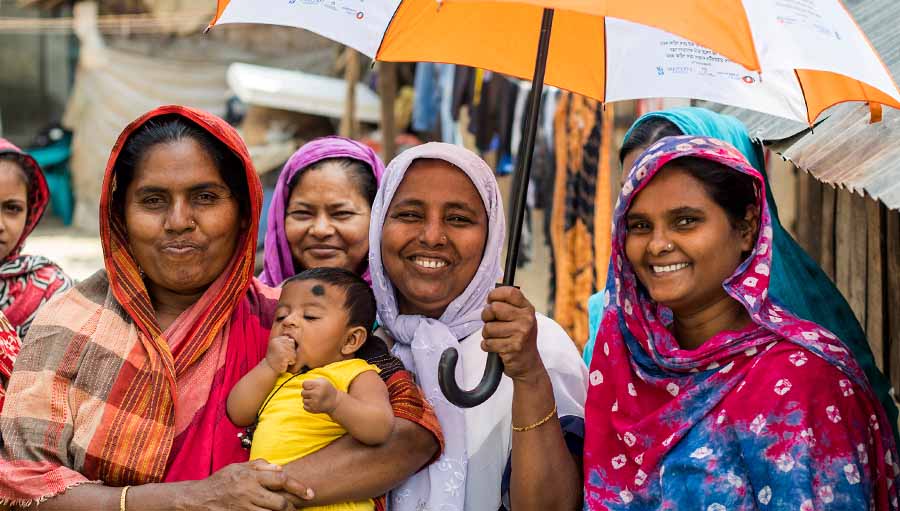 In Jessore, Bangladesh, one of the first things villagers see when Zinnat Ara approaches, is her big smile. After 10 years of work as a Maternal Health Worker (MHW), people come from everywhere to ensure she sees them. Zinnat visits about 20 houses and sees around 90 to 100 people a day in the Mollapara area, a territory covering two square miles and about 2500 houses. "I am happy I started this job because I love working with mothers and children. I know the community well – they like to share their problems with me," says Zinnat.
The Fred Hollows Foundation has been working in Bangladesh for the past 10 years. The Foundation quickly noted that MHWs like Zinnat were key to patients accessing health services. So, they decided to provide maternal health workers with basic eye health training. Now, MHWs can find people with eye issues like cataract, diabetic retinopathy and myopia and arrange for screening and treatment.
Every day, Zinnat identifies five to six patients who have eye issues and refers them for treatment. FHF has also equipped many local clinics to educate communities about eye care, check eyesight and carry out eye treatments. This has enabled poor villagers to receive affordable care in their home towns.
The partnership with not-for-profit organisation Paribar Kallyan Samity (PKS) is also helping. Together, they have renovated maternal clinics to facilitate eye screenings and eye surgeries. This innovation has had a significant impact on saving sight in Jessore's villages.
This programme was supported by L'Occitane and the Australian Department of Foreign Affairs and Trade through the Australian NGO Cooperation Program (ANCP).
Before MHWs received eye care training, patients with eye issues had little access to eye health systems. They would have to find transport to take the journey to a distant hospital. People with eye injuries often need someone to accompany them – an expensive undertaking for many poor villagers. Now patients have access to sight restoration and eye care at their local clinics..
Zinnat is proud of her work and the impact it is having in the community. Her dedication to the job and to Jessore has inspired her daughter to become a medical student.