To advance ophthalmic professional development, learning is very important. Expanding our skills and knowledge base ultimately also leads to better patient outcomes. In New South Wales (NSW), where I am the Vice-President of the Australian Ophthalmic Nurses Association (AONA), we are implementing one such project. 
The Eye TeleC project provides AONA NSW members, with ophthalmic education via teleconference. It meets the educational needs of ophthalmic nurses across not only metropolitan but also rural and remote areas of NSW.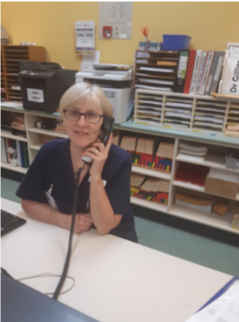 Each Eye TeleC event takes place over 1 hour; providing the opportunity to engage in ophthalmic practice, research, issues of professional interest and policy development. A guest speaker presents on the chosen topic for 30 minutes and then the phone lines are opened for discussion. Teleconferences are recorded so other members can learn from the event. These teleconferences have been a great success. They are also a welcome addition to the educational opportunities offered to our members.
When and why did it commence?
At the annual AONA NSW Conference in 2014, a survey from (119/150 participants) ophthalmic nurses, highlighted the need for ophthalmic education. A high percentage (85%) of the nurses were interested in some form of education — whether that be increasing professional development, refreshing knowledge or needing a basic introduction to up-skill in ophthalmic practice.
Interestingly, ophthalmic nurses were requesting education that they could access at home or in their local area. As for most travelling long distances, fees and study leave were reported to be an issue. Online education was suggested as an avenue to meet this goal. However, we found teleconference education quicker to set-up, easy to access and a cheap form of education. Each Eye TeleC event costs an average of AUD$260.
Who is the audience?
Using a teleconferencing facility to deliver education is not new. However, we hadn't done it before. The first event was a great success. A total of 16 AONA NSW members participated, some participants in groups and others dialled in from the comfort of their own home. Recently in April 2019, there were 45 ophthalmic nurses; so numbers are increasing. In addition, ophthalmic nurses from other states of Australia are joining to access this form of education (Victoria, Queensland and Western Australia). On average 25 ophthalmic nurses participate each time and of those approx 40% are living outside the metropolitan area of NSW.
What topics have been addressed?
Since the first Eye TeleC event in 2015 until the recent teleconference on April 27, 2019, many topics have been addressed. (For example; The Toric Lens Debate, Endophthalmitis: Communication is the key factor, Low Vision and Depression, Vision and Driving, Ophthalmic Nursing Practice Standards and interesting case studies).
Is the aim being met?
Yes, the Eye TeleC project has met its aim. Many participants love accessing ophthalmic education from their own home. Some feel it is a great experience to have so many people connected from all different places, with many stating it was "like we were all in the same room." Evaluation results are listed below:
89% would recommend EyeTeleC to a friend or colleague.
100% thought that the teleconference was the correct length of time (1 hour).
78% thought that the topic was extremely relevant to their clinical practice.
56% spent under an hour & 33% spent more than an hour researching more about the topic after the teleconference finished.
Where to next?
The Eye TeleC programme will continue during 2019 with a view to expand further. We hope to develop more links nationally within Australia and internationally. Relationships have already been fostered at the International Ophthalmic Nurses Association Annual Conference in London in 2017, where this project was presented.