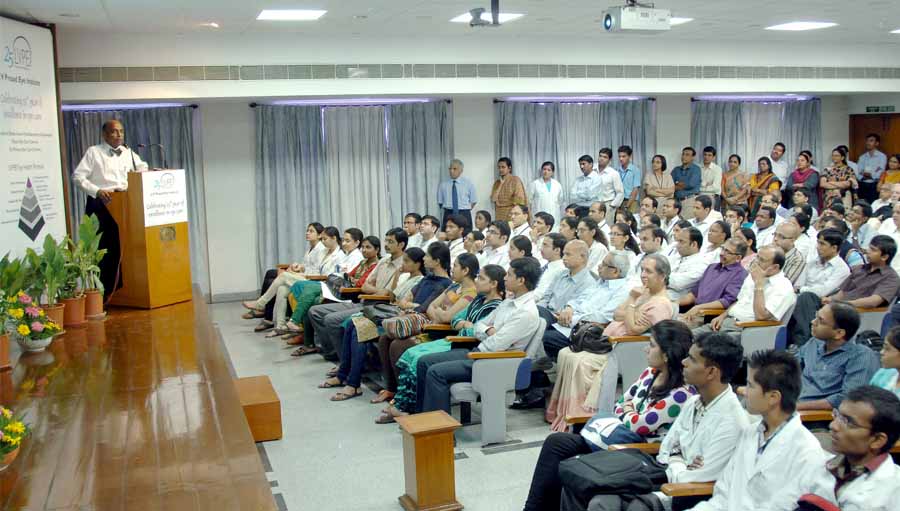 Before the IAPB Council of Members meeting begins there are a number of IAPB Work Group and Committee meetings that you may be involved in, or like to participate in. Below are the details on how you can attend these meetings and where and when they are! Closed meetings are clearly marked and you must register your attendance before going along to a Work Group meeting.
Please register your attendance by the 3rd September. The meetings on the 13th and 14th will all be at the L V Prasad Eye Institute.
Thursday 13th September
IAPB Committee and Work group Meetings at L V Prasad Eye Institute
Slot
Room: Patodia Auditorium
Room: Preview/Godrej (6th floor)
Room: Old 1st Lounge (1st floor)
0900-1030
LVPEI-WHO Workshop
Audit Committee [Preview] [CLOSED]
Gender Equity
BREAK
1100-1230
LVPEI-WHO Workshop
Executive Committee [Godrej] [CLOSED]
Environmental Sustainability
1230-1400 (Lunch)
Art Gallery (6th floor)
LVPEI-WHO Workshop
Human Resources for Eye Health (HREH) [Godrej]
1400-1530
LVPEI-WHO Workshop
Regional Chairs [Godrej]
[CLOSED]
Diabetic Retinopathy
BREAK
1600-1800
Board of Trustees [4th Floor] [CLOSED]
Board of Trustees [4th Floor] [CLOSED]
Board of Trustees [4th Floor] [CLOSED]
Friday 14th September
IAPB Trustees and Work group Meetings at L V Prasad Eye Institute
Slot
Room: Patodia Auditorium
Room: Old 1st Lounge (1st floor)
0900-1030
Board of Trustees
[CLOSED]
BREAK
1100-1230
Board of Trustees
[CLOSED]
School Eye Health
1230-1400 (Lunch)
Art Gallery (6th floor)
1400-1530
Board of Trustees
[CLOSED]
Refractive Error
BREAK
1600-1800
Board of Trustees
[CLOSED]
Low Vision
All meetings are taking place at the LVPEI campus a short walk from the Park Hyatt hotel. Please take a look at this map.
Work Group Meetings
Chairs: Jennifer Gersbeck, Fred Hollows Foundation and Elizabeth Kishiki, Kilimanjaro Centre for Community Ophthalmology (KCCO).
IAPB established the Gender Equity Work Group to provide an important forum for raising awareness, sharing ideas and disseminating evidence on gender equity approaches.
To attend please email Marijke Fotia: mfotia@hollows.org
Chair:Thulsiraj Ravilla,Aravind Eye Care System
The Environmental Sustainability work group will be tackling issues around environmental sustainability, one of the biggest global health priorities. Environmental degradation and climate change are having devastating impacts in all parts of the world and particularly on the poorest communities. People in these communities often lack access to safe water and sanitation, to sustainable food and energy sources; they live in dangerous, polluted environments and face increasing risks due to natural and man-made disasters. These factors are having significant impacts on health and well-being.
To attend please click the link here
Chair: Suzanne Gilbert, Seva Foundation and Babar Qureshi, CBM
Having the right people in the right place is the cornerstone to any successful eye health programme. Human resources for eye health (HReH) is a key building block underpinning any health system. Addressing the problem of having too few qualified eye health workers and poor distribution of those qualified health workers is one of the greatest challenges to meeting the goal of Universal Eye Health. In recognition of this IAPB established a committee in 2003 to look into how best IAPB and its members could coordinate efforts to address this problem more effectively.
To attend please email: Patricia Gettler, pgettler@seva.org
Chair: Jennifer Gersbeck, Fred Hollows Foundation
The IAPB Work Group on Diabetic Retinopathy (DR) was established in 2013. It is an ad hoc group of IAPB members committed to facilitating shared learning, supporting the development of tools and resources, and to informing and guiding IAPB's advocacy efforts on DR. Underpinning the work of the group is the need to foster greater collaboration among eye health INGOs and the diabetes sector.
To attend please email: David Faulmann dfaulmann@hollows.org
Chair: Hasan Minto, BHVI
IAPB's School Eye Health Work Group notes that school eye health services are far too often a neglected part of child health interventions – at the expense of students' potential.  The need to address how we effectively integrate eye health into new and established school health programmes is vital to combat the ever-increasing need for care.
To attend please email: Priya Morjaria priya.morjaria@lshtm.ac.uk
Chair: Robert Chappell, World Council of Optometry (WCO)
Globally, uncorrected refractive errors (RE) are the main cause of visual impairment, according to recent WHO estimates This translates in millions of people being functionally blind due to lack of access to spectacles, resulting in lost education and employment opportunities, lower productivity and impaired quality of life. Yet, the positive impact that providing refractive services can have on employment, poverty alleviation and education, as well as eye health, has largely gone un-noticed, even as post 2015 development discussions make positive references to the rights of people with disabilities and the need for rehabilitation services. Thus the Refractive Error Work Group has an important advocacy role to keep the issue of refractive error on the radar of health and development policy makers.
To attend please email: Monica Jong m.jong@brienholdenvision.org
Chair: Jill Keeffe, University of Melbourne
It is estimated that about 80 million adults and children have low vision and thus have a potential need for low vision services. A global survey published in 2011 showed that only a very small proportion of people with low vision have access to services (see Chiang PPC, O'Connor PM, Le Mesurier R, Keeffe JE. A global survey of low vision service provision. Ophthalmic Epidemiology. 2011;18(3):109-121). Some countries do not yet have low vision services and in many less than 20% of people who possibly need services are able to benefit from them. In recognition of the need to support establishing and expanding low vision services, the IAPB has formed a technical working group with membership from across the regions. The aim of the Low Vision Work Group (LVWG) is to provide leadership for IAPB Members and other stakeholders on priority matters relating to low vision.
To attend please email: Jill Keeffe jill.keeffe@unimelb.edu.au
L V Prasad Eye Institute is organising a closed-group workshop with the World Health Organization (WHO) on patient safety and improved treatment outcomes. The workshop will be on 13 September and will feed into the session on the same topic at the Council. If you have not done it yet, do register to attend the IAPB Council here. (IAPB Work group members can check with their Work Group chairs if this workshop clashes with scheduled meetings).
To find out more please follow the link