The Aboriginal Vision Programme Team, Brien Holden Vision Institute write about Provision of Eye Health Equipment and Training – the national programme tackling high incidence of Diabetes related blindness in the Indigenous population.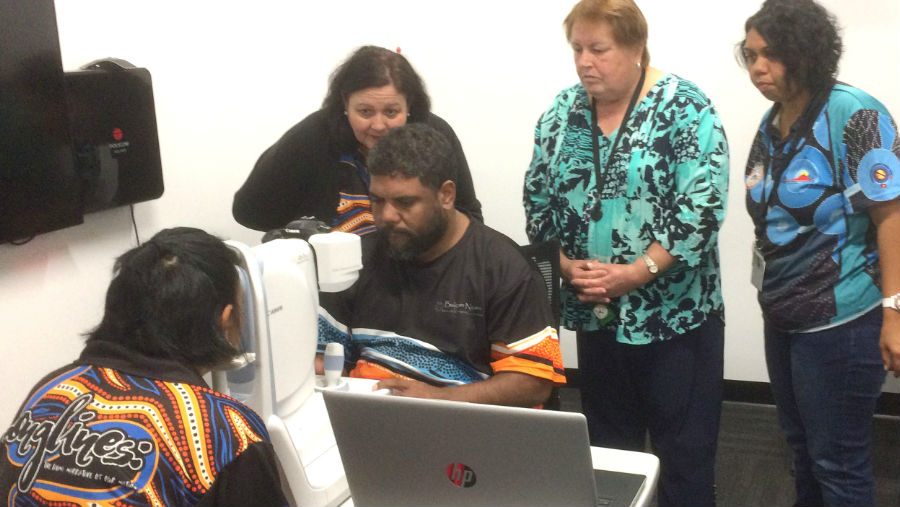 "The old saying goes 'if you love your job, you never work a day in your life' and I feel lucky that these simple words ring true for me most working days. My job allows me to work with the Aboriginal Health Workers who coordinate optometry services to their communities within New South Wales, Australia. Working in this ground level context for the last 18 years has been a privilege, and I am grateful for the experiences, relationships and learnings this wonderful journey has brought me.
Currently my role at the Brien Holden Vision Institute includes being the Project Manager for the nationally coordinated programme Provision of Eye Health Equipment and Training. We had wonderful news recently announcing the Australian Government had granted a funding extension for the programme, continuing the support for an additional year until June 2020, and allowing retinal cameras to be installed in many more locations," says Colina Waddell, Project Manager, Australia.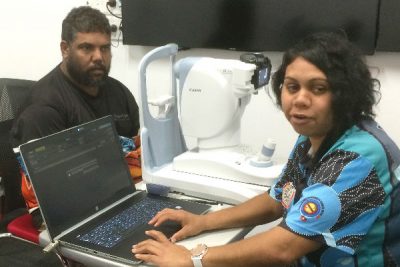 "Our collective aim is to provide 150 communities across Australia with non-mydriatic retinal cameras for their primary health care clinics, enabling provision of care to Aboriginal and/or Torres Strait Islander people. I'm pleased to say the programme has so far built capacity through training and equipping 44 sites in Queensland, Victoria, New South Wales, Northern Territory, South Australia, Tasmania and the Australian Capital Territory. A total of 227 participants were trained between August 2017 and June 2018," said Christina, Education Officer for the Institute, adding, "We conduct surveys as part of our evaluation process and here's what a few people said."
"Staff love the camera, and it's so handy knowing the camera is there for any clients, and for any specialists. Clients also love it. They love looking at the pictures afterwards and it makes it easier to explain diagnoses," said Sean Kinchela-Duncan, Eye Health and Otitis Media Trainee, Katunggul Aboriginal Corporation, Narooma, NSW.
"I would highly recommend this training for all staff working in remote areas," said an Aboriginal Health Practitioner at Mutitjulu Health Service, Northern Territory.
In addition, the programme extension will fund the design and delivery of directed efforts to support embedding of retinal photography into primary health care processes, such as workshops with key stakeholders and health service staff who play a role in integrating the new camera into their practices.
Another recent announcement by the Australian Government, regarding focused work and funding to support improved access to spectacles for Indigenous Australians, was also very welcome news.
"Years of advocacy have gone into this, led by Optometry Australia and NACCHO Aboriginal Health Australia. It's so encouraging for our sector to see our Government support and fund improved access to prescription spectacles for Aboriginal and Torres Strait Islander Australians. This new investment will work to allow State and Territory Governments to streamline, standardise and improve their schemes that provide subsidised glasses for Indigenous people," said Anna Morse, Programmes Manager, Australia.
Colina further shares her insight of her work. "My experiences over the years of being involved in the training workshops for Aboriginal Health Workers has offered me a landscape of learning myself, as I never have ceased to be amazed by their dedication. A few amazing Indigenous women come to mind when I start to describe my experiences in this aspect, one of whom is Jenny Hunt, the current Eye Health Worker at Walgett Aboriginal Medical Service," says Colina.
Jenny is doing a wonderful job and recently we asked her to contribute to the Vision 2020 Australia and NACCHO social media initiative, Because of her we can, highlighting Indigenous women in eye health. I would like to leave you with her amazing words as I truly believe the Aboriginal Health Workers are the real champions on this International Day of the World's Indigenous People: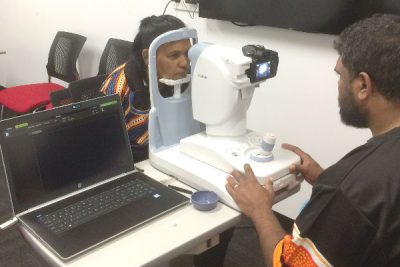 "I find the eye programme rewarding when I see the relief and smile on my people's faces when they first put their glasses on. I feel proud. Also, if they do not attend their optometrist or ophthalmologist appointments, I will chase them up and take them there myself because I know how important it is for them.
"I have excellent communication with the outreach location workers and they do a wonderful job getting the patients in for our clinics. I travel to Narrabri, Collarenebri, Goodooga, Pilliga and Lightning Ridge for clinics as well as the one we run in Walgett. Without the help from these workers, there would be no eye clinics," said Jenny Hunt, Eye Health Worker at Walgett Aboriginal Medical Service, NSW, Australia.