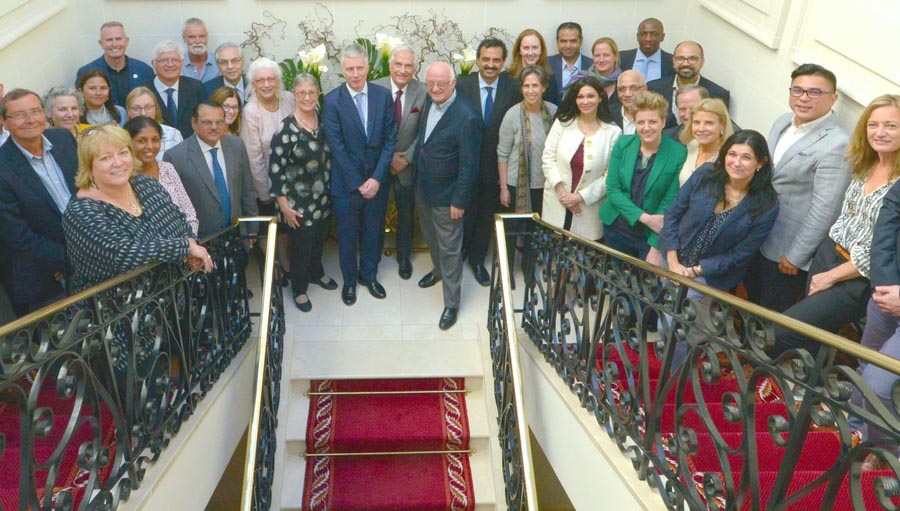 The IAPB alliance is committed to delivering eye health for all, everywhere. What values, ethics or precepts will guide us towards this lofty goal? What are the values to which eye care organisations joining our alliance should aspire to?
In September 2018, the IAPB Executive Committee actioned a Sub-Committee to put together IAPB's Membership Values. They felt that having a core set of values for IAPB members to commit to, would strengthen the network and allow potential members to demonstrate their commitment to good practice. These values can also be demonstrated and upheld by IAPB and member staff at IAPB events and other opportunities for interaction.
"I'm delighted that we've agreed a set of common values. IAPB is proud to be a community of diverse organisations", notes Peter Holland, CEO. "The values underpin our shared purpose and set out the principles which will govern and inform the way we work to achieve our goal of eye health for all".
The Membership Values Sub-Committee included Suzanne Gilbert – Seva, Aaron Magava – IAPB Africa Regional Chair, Dominic Haslam – Sightsavers and Joanna Conlon – IAPB. The Group developed a set of membership values that were approved by the Board of Trustees on 24th April 2019.
The values are divided into two areas: "Principles" which showcase commitment to protecting the sectors ultimate goals around UHC and sustainability; and "Ways of Working" which are the founding ways that we expect IAPB members to work together and highlights the need for good practice in all aspects of work undertaken within the eye care community.
IAPB Membership Values
IAPB and all of our members commit to uphold the following shared values. As a membership body we seek to demonstrate and live these shared values both individually and collectively:
Principles
Alignment with Universal Health Coverage (UHC) – We align ourselves with the principles of Universal Health Coverage (UHC) set out by the World Health Organization (WHO) and strive to integrate our systems within this framework. We pursue practical and strategic opportunities to support the integration of eye health services into mainstream health provision
Sustainability – We are committed to ensuring responsible sustainability is at the forefront of our working practises
Quality – We are committed to providing the best quality service and achieving the best quality outcomes in all parts of eye health provision
Diversity and Inclusion – We value, respect and encourage diversity, and are impartial and non-discriminatory in all our activities to further the goals of inclusive working, partnerships and collaborations
Safeguarding – We respect the safety, well-being and rights of the communities we seek to serve and the people who work for us – wherever they are in the world and whatever the humanitarian or development challenges
Integrity – We are committed to ensuring we behave in accordance with these principles
Ways of Working
Partnerships and Collaboration – We commit to working with each other, and with others to advance our common mission. We recognise that only by working with each other and with others can our collective vision be realised
Transparency – We are open, transparent and honest. We communicate actively with stakeholders about our activities and make information publicly available (mindful of data protection requirements and any security implications of so doing)
Governance – We follow principles of good practice in governance and should be held responsible by others for what we do
Good data – We are committed to using the most up-to-date peer reviewed data and to ensure we are sharing current statistics and thinking with the wider public health and eye care audiences
All new members of IAPB will be asked to confirm they commit to these values during the application process. They will also be promoted in all future IAPB membership resources.