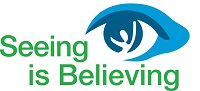 2016 was an incredibly busy year for us here at SiB. We closed out our last Phase IV project and set up 14 new projects, 4 of which introduce themselves here. So we now have over 40 SiB projects running! To see where all our SiB projects are, click here.
With so many SiB projects being implemented, there is a wealth of knowledge & experience to learn from. So in this SiB newsletter we have articles on:
The innovation fund projects continue to develop creative solutions to challenges within the eye care sector. For example Headstart, a realistic mannequin that contains a model of an eye and eyelid that surgical trainees use to practice their skills in a no-risk environment. Click here to find out more.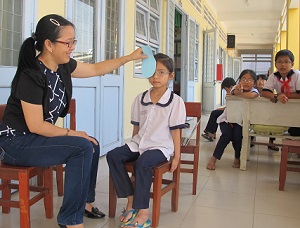 We are also building on our strong base of research funded by SiB, with some interesting pieces on barriers to both women & children accessing eye care services & a survey on the effect of wearing spectacles on secondary school students. Click here to find out more. Thank you to everyone who submitted articles to the SiB newsletter, we really appreciate your willingness to share learning & experiences.
We also increased learning between SiB projects in 2016, through setting up regional webinars, click here to find out what happened & do get in touch if you would like to be involved in 2017. For those of you interested in open education, the International Centre for Eye Health are running an Open Education Webinar series, click here for details.
One of the highlights of 2016 was the 10GA and it was wonderful to see so many of you there. SiB enabled 26 mid-level staff to attend, details here.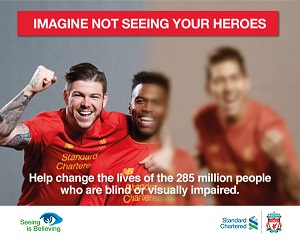 As Standard Chartered Bank get closer to achieving the $100 million SiB target, the final fundraising is really important. Click here to find out about a fundraising initiative Standard Chartered Bank Pakistan implemented in 2016.
And do we have any football fans in our SiB Community? As many of you know, during Liverpool FC's match against Manchester United on 17th October, footballers swapped the Standard Chartered logo on their shirts for 'Seeing is Believing' (SiB). Click here to find out why!
Thank you all for the wonderful work you did for SiB in 2016 and I wish you all a happy & healthy 2017.
See the full newsletter
To subscribe to the newsletter please write to Susan Evans sevans@iapb.org