Rohit C Khanna, V Rajashekar, Niranjan K Pehere, Gullapalli N Rao, LVPEI on the Liberia Eye Health Initiative.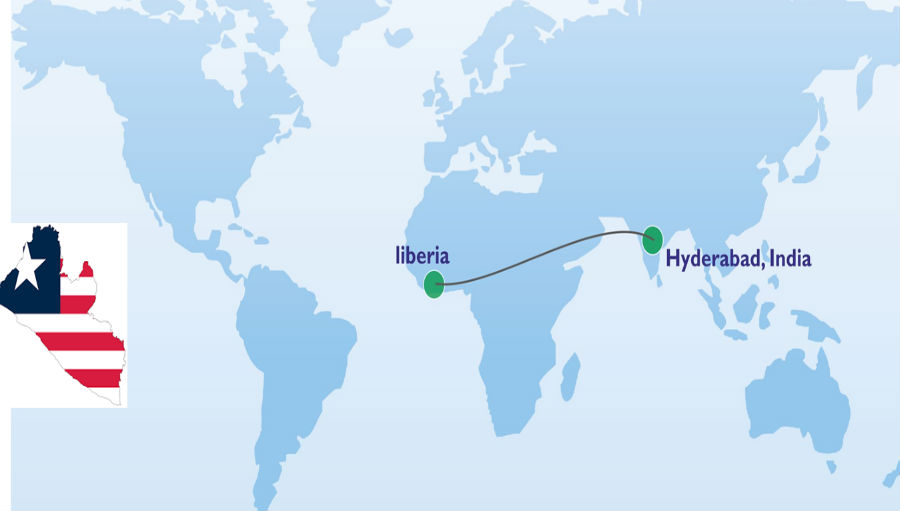 In July 2017, the L V Prasad Eye Institute (LVPEI) opened its first centre outside India. This is the Liberia Eye Centre (LEC) at the John F Kennedy (JFK) Memorial Medical Centre in Monrovia. The L V Prasad Eye Institute, Liberia, manages the centre which aims to develop a sustainable eye care system for the country.
The facility is the first modern comprehensive eye care facility in Liberia. Its design and development of the infrastructure, training human resources, and operational systems – everything involved LVPEI.
The origin
The centre is a result of a commitment made to President of Liberia, Her Excellency, Dr Ellen Johnson Sirleaf who had visited LVPEI in late 2013. President Sirleaf invited LVPEI's Founder-Chair, Dr Gullapalli N Rao, to help in setting up an eye health system in Liberia.  The then President Sirleaf inaugurated the Liberia Eye Centre (LEC) on July 24, 2017.
Successful partnerships
Our foray into Liberia has served as a model of successful partnerships between LVPEI, the Government of Liberia, and numerous international organizations like Lions Clubs International Foundation, USA, Latter Day Saints Charities, USA, Operation Eyesight Universal, Canada, OneSight, USA, EYElliance, USA, HelpMeSee, USA and Indo American Eye Care Society, USA.  The local government provided the space and staff. The International Nongovernmental Organizations (INGOs) funded the procurement of medical equipment and training. LVPEI provided the concept, planning, staff development and implementation.
The impact in two years
In the past two years, we have seen more than 25,000 outpatients and performed more than 1,500 eye surgeries at the centre, 50 percent of these at no cost. Also, with support from SightLife, we have done 26 corneal transplant surgeries. Similarly, an electronic medical records (EMR) system is in use to document the patient's clinical details, serving to create a database for quality clinical care and clinical research. Over the past two years, training has been imparted to one ophthalmologist, three ophthalmic nurses, seven ophthalmic technicians, two Opticians, two biomedical and maintenance technicians, two patient counsellors, one store assistant and one community eye health coordinator.
Community eye care
LVPEI has also initiated community eye care programmes in and around Monrovia. A school eye health programme was successfully completed in 50 schools, with support from EYElliance. A nationwide school eye health programme with support from EYElliance, in partnership with the Ministry of Health and Ministry of Education, is also being planned. Another goal is eliminating cataract blindness
in the country.
Residency programme
In July 2018, the Residency programme in Ophthalmology in partnership with the Liberia College of Physicians and Surgeons (LCPS) was launched. Annually, these residents spend nine months at the LEC and three months in LVPEI's Centre of Excellence in Hyderabad, India. A Lions Clubs International Foundation (LCIF) grant helps support the programme.
Expanding the network
The Institute plans to further expand the network of tertiary level services at the LEC in the capital city of Monrovia. The plan is to establish a network of vision centres in remote areas. These will provide high-quality primary eye care closer to the doorsteps of the people, as well as build capacity in the existing eye care providers in the country. Another project will be to tackle the backlog of cataract in the country in collaboration with other hospitals.
As is evident, ours is a humanitarian effort, a glimpse of which is exemplified here. A recent beneficiary of LEC is a 12-day-old baby of a 17-year-old mother who had developed gonococcal infection prior to the child's birth. The infection would have led to corneal perforation in the eyes of the baby, robbing the new born of precious vision. However, prompt diagnosis and aggressive treatment provided at LEC helped preserve this infant's vision.
Acknowledgements: LVPEI gratefully acknowledges the support of the following partners: Government of Liberia, Lions Clubs International Foundation, USA, Latter Day Saints Charities, USA, Operation Eyesight Universal, Canada, OneSight, USA, Eyelliance, USA, HelpMeSee, USA and Indo American Eye Care Society, USA.