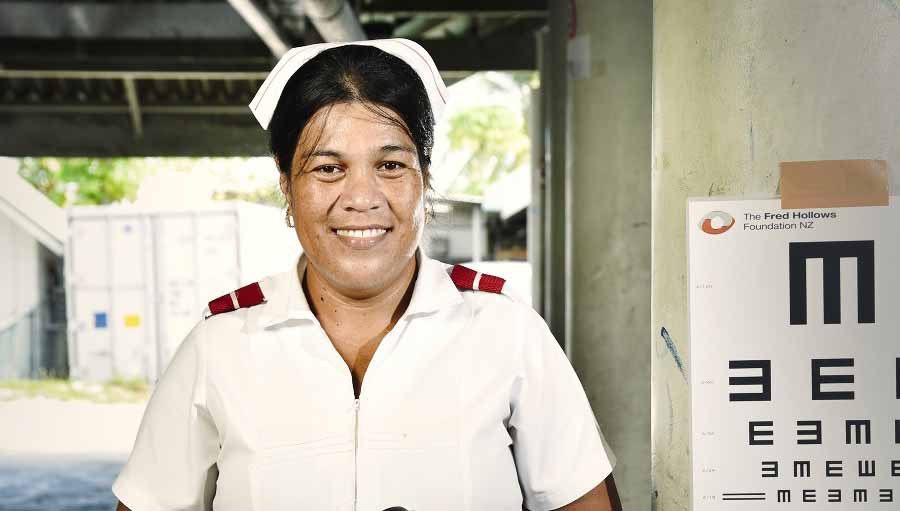 The role of Clinical Quality Assurance Advisor (CQAA) for Fred Hollows Foundation NZ was established to ensure consistency in standards of delivering high quality, safe effective care to patients across the Pacific and minimize clinical risk.
My clinical portfolio is that of a registered nurse with an extensive background; senior clinical nurse in cardiac intensive care, rehab nurse specialist for patients post cardiac surgery, clinical research nurse for intensive care and cardiology, lecturing in nursing at university, as well as having worked on volunteer teams doing heart surgery in Fiji for Friends Fiji Heart Foundation.
Upon commencing the CQAA role, I needed to meet clinical staff in all three Foundation supported clinics; Fiji, Solomon Islands and Papua New Guinea to engage, gain rapport and assess how the clinics functioned.  It was important to assess safety standards of each clinic and ensure staff felt supported and prepared to manage critical clinical events as they presented.
There is a lot of liaison between doctors and nurses in the Pacific regarding everything clinical.   I coordinate the Clinical Governance Committee to discuss clinical practice issues across the clinics and outreach locations and ensure consistency in standards.  There is also a lot of networking with New Zealand eye clinic staff; nurse educators, nurse practitioners and nurse specialists keeping updated with latest developments in practice and workshops/conferences.  I have created bridging opportunities for nurses to visit New Zeeland and Australian clinics on clinical attachments to broaden knowledge, update on standards of care and adopt these skills for their own clinical settings.
There are opportunities for Pacific nurses to present at international conferences and share their experiences of working in under resourced settings, utilizing their knowledge and expert clinical skills in assessing, planning and treating patients often in the absence of an ophthalmologist.
A big part of Clinical Quality has been redefining the Clinical Governance Policy which provides a platform to ensure excellent eye care service is delivered throughout the Pacific. It provides guidance for clinicians, managers and other staff on how to achieve continual quality improvement, be accountable for safety of clinical services provided as well as keeping patients safe from harm and ensuring they receive care to the highest standard.
Clinical incidents are reviewed, feedback provided and risk mitigated to ensure high quality care and reduce number of clinical incidents. Supporting clinical staff in transferring evidence-based standards of care into practice through use of policies and procedures and ensuring staff are aware of accountabilities in practice.
Training of all clinical staff in both basic life support and doctors with advanced life support has been a massive job to achieve – staff working through clinics run by The Foundation are all trained.  The clinics have been provided with the same brand AED for consistency and ease of use and have fully stocked emergency trolley which staff are expected to familiarize themselves with.
Whenever a patient undergoes an interventional procedure (surgery, laser or intravitreal injections) they are at risk and staff need to feel confident in mitigating risk.  This involves reviewing patient procedure checklists.  Safety checks have been initiated for patients, theatres and all equipment used in theatre so that theatre doesn't start for the day until all checks are done and it is safe to proceed.
The clinical staff have been committed in taking on these changes and understanding their accountability in enhancing upon quality of care.