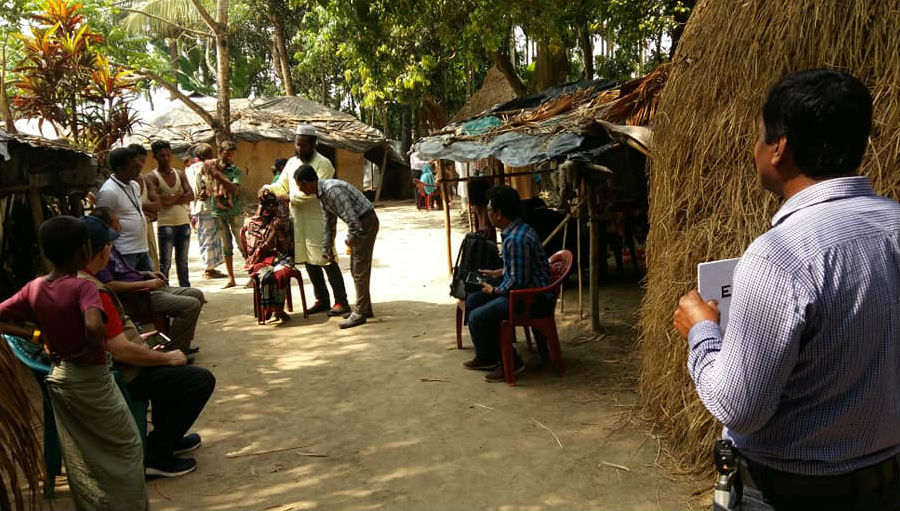 The Rohingya population of Rakhine state in Myanmar started flooding neighboring Bangladesh from August 2017, fleeing from conflict. Since then it is estimated that more than a million Rohingya refugees currently reside in Cox Bazaar District, Bangladesh. UN agencies and many international governments and non-governmental organizations are supporting the Bangladeshi government to cope with this humanitarian crisis. Along with basic survival needs the health issues of these people are also becoming a priority.
Eye Health in the refugee camps
IAPB members such as Orbis International, The Fred Hollows Foundation, CBM, Seva are supporting the government to tackle eye health issues at the refugee camps in Cox bazaar. In 2018, we supported the Seva Foundation and the Bangladesh government to assess the eye health needs of the people living in the camps. However, we also felt the need for some valid evidence to formulate a long-term strategic plan; a plan that could cater to the eye health needs of the population. Therefore, a blindness survey using RAAB survey methodology was carried out during March – May 2019.
Survey design
The survey design was based on the population data published by UNHCR in February 2019. We created the population unit (a cluster) according to majhi/ block (450 to 1000 population) and generated a total of 1956 population units. This formed the sampling  frame,  which included the entire refugee population (919,946) residing in the Cox Bazaar district.
The sample size included 3780 people aged 50 and older, with the prevalence of blindness assumed as 4% (with 20% error tolerance at 95% confidence level), 10% non-response and 1.5 times cluster design effect. To enroll an adequate sample, 76 population units were selected according to population proportionate to size using RAAB 6 software. In each cluster 50 people aged 50 and over were enrolled in the survey. The eligible participants underwent presenting and best corrected (PH) visual acuity assessment in house-to-house visits by a team led by an ophthalmologist. Media and fundus examination was carried out with direct ophthalmoscope. Dilated pupil examination was carried out on those whose PH vision even after correction didn't improve to 6/12, except in those who had obvious cornea or lens opacity. Data collection was paperless using mRAAB application installed in android Tablets/Mobile phone.
The detailed survey result is still being processing. However preliminary data shows that the prevalence of blindness rate is not as high as expected. Instead, it is very similar to the prevalence data of Bangladesh and Myanmar. Major Causes of blindness are Cataract, Corneal opacity, phthisis and posterior segment problems.
The major difference seen in the population are significant number of unilateral blind due to phthisis. Phthisis is a condition in which the eye ball collapses due to penetrating injury or nutritional causes. Uncorrected refractive error is high and spectacle coverage is very low even for presbyopia (reading glasses). Quality of services received has not met the WHO recommendation level of visual outcome.
The survey data strongly suggests a desperate need to develop cataract surgical services, cornea services, refractive error services and speciality services for posterior segment conditions. There is also a need for primary eye care services and awareness creation programmes.
The detailed report of the survey will be published in a peer-reviewed international  journal shortly. We will keep you notified.