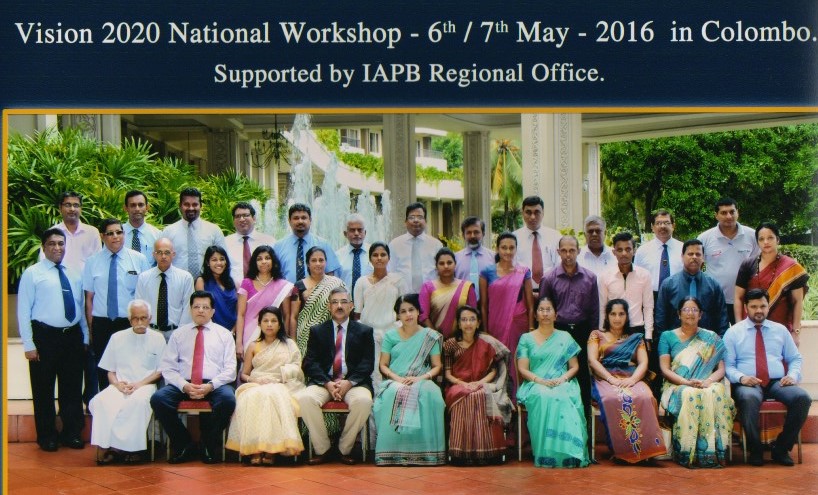 In collaboration with IAPB South East Asia, VISION 2020 Sri Lanka and the Ministry of Health organized a national workshop on eye health action plan from 6 to 7 May, 2016. The main objective of the workshop was to come up with suggestions for the amendment on Sri Lanka's National Eye Health Action Plan 2013 – 2018, based on the findings obtained from their most recent blindness survey conducted in 2014-2015 and to also incorporate WHO Global Action Plan monitoring indicators in it.
In the meeting Dr Palitha Mahipala, Director General of Health Services officially handed over the Report of Blindness Survey to IAPB. The Blindness survey was carried out by MoH Sri Lanka, with financial and technical support from various IAPB members, including International Centre for Eye Health, London School of Hygiene and Tropical Medicine, CBM, Sight Savers and Indian Institute of Public Health, Hyderabad. The survey shows the prevalence of blindness in Sri Lanka as 1.7% among the age 40+ population. Similarly, the survey revealed that 1.6 % and 15.4% severe visual impairment and visual impairment among the study population.
The prevalence of blindness rate varies between provinces from as high as 2.9% in Uva province (South East) to 0.29% in the South. Cataract was leading cause of blindness accounts for almost 67% of overall blindness. Cataract Surgical Coverage was found to be 85.4% in person with visual acuity cut off of 3/60. Good visual outcome in eyes which received cataract surgery were 59.7 % and 75.1% presenting and best corrected visual acuity respectively.
The full blindness survey report can be accessed here.
The issues revealed by the survey were discussed in the meeting and recommendations to resolve the prominent issues were finalized in the workshop over two days. It was decided that the VISION 2020 committee and National College of Ophthalmologists will soon meet the Ministry of Health with these recommendations and incorporate the same into National Eye Health Action Plan 2013 – 2018.