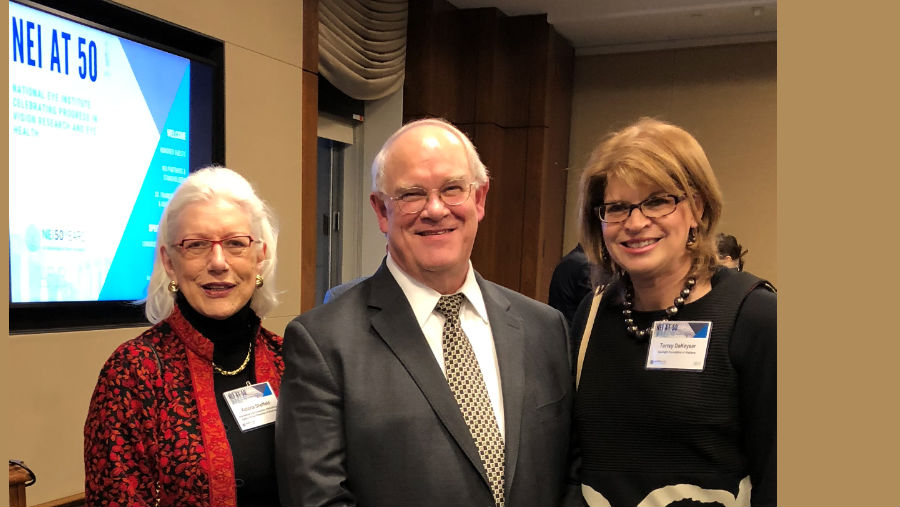 The U.S. National Eye Institute (NEI) recently held its 50th anniversary on Capitol Hill in Washington, DC on 21 March 2018. Despite the unusual March blizzard, about 100 people were in attendance for this milestone celebration which included IEF's President, and IAPB Vice-President Victoria M Sheffield. Other individuals from IAPB member organisations: Torrey de Keyser, Board Chair of Prevent Blindness America, and Phil Albano of the Lions Clubs International Foundation were also at the event.
The event was led by Congressman Pete Sessions (Texas), a champion of vision research funding. He stated "I am proud to support the work of my dear friends Dr. Paul Sieving and Dr. Francis Collins. Under their leadership the National Eye Institute and the National Institutes of Health continue to make ground-breaking medical discoveries that have helped thousands of Americans and citizens worldwide. It is an honor to be a part of this milestone occasion." There were also remarks by Dr. Francis Collins, Director of the U.S. National Institutes of Health (NIH), and Dr. Paul Sieving, Director of the NEI. Dr. Carl Kupfer, Dr. Sieving's immediate predecessor, was the first director of NEI (1970-2000), and also served as IAPB's President from 1982-1990.
Origins
The NEI emerged in 1968 as the first government organisation solely dedicated to research on human visual diseases and disorders. Its establishment was due both to a Congressional interest and from a push by prominent ophthalmologists. In 1989, the National Eye Health Education Program (NEHEP) was mandated by Congress to increase its commitment to the prevention of blindness through public and professional education programmes that encourage early detection and timely treatment of glaucoma and diabetic eye disease. In 1993, under the direction of Dr. Sieving, NEI was successful in cloning the RPE65 gene, a protein necessary for processing Vitamin A in the visual cycle. Genetic mutations in RPE65 cause one type of Leber congenital amaurosis (LCA), a group of degenerative diseases of the retina (NEI, 2017). LCA is the most common cause of congenital blindness in children.
Work on Ebola Virus
In more recent years, NEI has begun to study the ocular complications of the Ebola virus through the Partnership for Research on Ebola Virus in Liberia (PREVAIL) following the 2014 outbreak in West Africa that led to 11,200 deaths in the region (NIH, 2015). Their goal is to understand the long-term health implications of Ebola virus disease among those who survived acute infections with the virus, and many of whom reported a variety of ailments, including eye fatigue and blurry vision (NIH, 2015).
Fifty years later, NEI still counts on its partners in vision research, eye health, vision rehabilitation, and advocacy for the vision impaired to help spread the word about the importance of vision health and the value of ongoing work to find new therapies for diseases of the eye and developing new technologies to help the vision impaired.
Ms. Sheffield stated that "Huge congratulations are in order for the NEI on its 50th anniversary and for its significant contributions to research and the eye health knowledge base which informs NGOs working to reduce visual impairment worldwide."
Image on top: Dr. Sieving is pictured with Victoria Sheffield, President & CEO of the International Eye Foundation, and Torrey deKeyser, Chair of the Board of Directors of Prevent Blindness America
Sources:
https://nihrecord.nih.gov/newsletters/2015/10_23_2015/story3.htm
https://nei.nih.gov/content/rpe65
https://nei.nih.gov/sites/default/files/pdfs/NEIat50_Toolkit.pdf