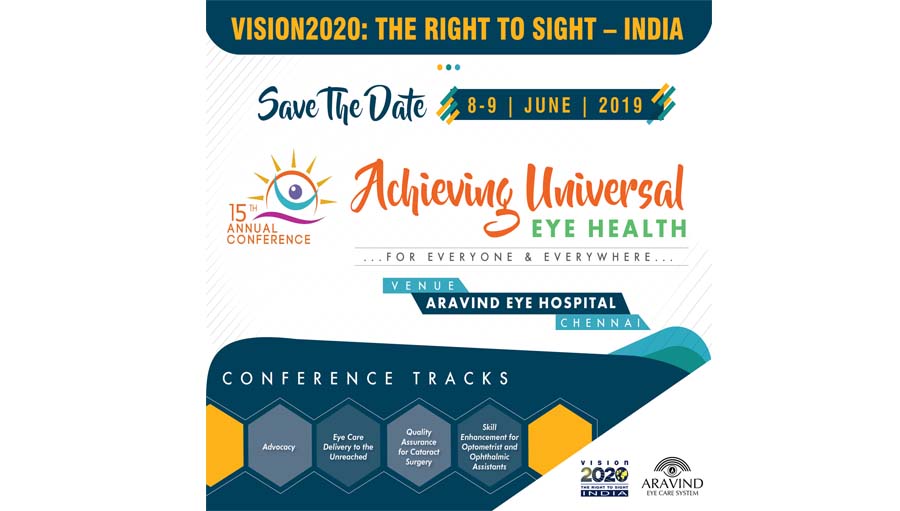 VISION 2020 INDIA 15th national conference will be focusing on community ophthalmology. The conference will be held on 8 & 9 June 2019 at Aravind Eye Hospital, Chennai, Tamil Nadu. The conference is a sought-after platform for sharing skills, enhancing knowledge and networking with peers and the sessions focus more on the aspects of community ophthalmology – be it policy, technology or sharing of knowledge.
The four parallel tracks of the conference are –
Advocacy for eye health
Eye care delivery to the unreached
Quality assurance for cataract surgery and
Skill enhancement for optometrists and ophthalmic assistants.
Submission for free paper and poster abstracts is open now.
A four member scientific committee comprising of Dr Praveen Vashist, Professor and Head, Community Ophthalmology, Dr. R. P. Centre for Ophthalmic Sciences, All India Institute of Medical Sciences is designing the two day conference. Dr Rohit Khanna, Director, Gullapalli Pratibha Rao International Centre for Advancement of Rural Eye care, LVPEI, Dr Sandeep Buttan, Global Technical Lead Eye Health (Asia), Sightsavers India and Dr Haripriya Aravind, Head of Department Cataract & IOL Services, Aravind Eye Hospital, Chennai are designing the conference sessions.
For more details on the conference visit : http://vision2020indiaannualconference.org/