July 2014
This is the first in what will become a regular feature from Peter Ackland updating you on latest developments that are contributing to the implementation of the WHA resolution 66.4 "Universal Eye Health: A global action plan 2014 – 2019".
Where better to start this new series than the very first action articulated in the Global Action Plan (GAP) – Action 1.1 "Undertake population based surveys on prevalence of visual impairment and its causes."
RAAB Training
I have just signed the 'certificate of attendance' for 11 people trained in the Rapid Assessment of Avoidable Blindness (RAAB) methodology, at a Trainer of Trainers workshop funded by IAPB. At these sessions, people with some RAAB experience look in detail at the theory and methodology of the RAAB tool. Following the training, individuals then have to participate in a RAAB study in the field. During this study, their performance is ass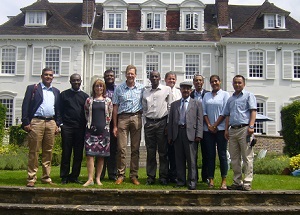 essed by an experienced RAAB accreditor and, assuming all is well, the individual becomes a "certified" RAAB trainer – i.e. someone whom we are confident can not only conduct a good quality survey but also support and train others.
This training follows similar workshops held when RAAB was first introduced some ten years ago and more recently in Latin America in December 2012 and in West Pacific in March 2014. There are now a total of 19 certified RAAB trainers and a further 29 people who have completed the theoretical training and will be certified as they engage in RAAB studies in the field.
Resource for IAPB Members
So this is one way IAPB Members could help – if you are planning a RAAB study please do inform ICEH, Hans Limburg, or IAPB so that we can see if one of the people awaiting certification can be involved in the study.
RAAB Repository
Another recent development is the RAAB repository, which Hans Limburg has developed with support from the Fred Hollows Foundation. Please go to www.RAABData.info and explore the site, I know Hans would welcome your feedback. This is a work-in-progress and data is still being uploaded, but you can find information on all the RAAB studies to date. The repository will be a great resource for epidemiologists, advocates and programme managers.
DR Module
Over the past couple of years a DR module has been developed by ICEH that is an optional module to the standard RAAB v5 or v6 methodology.
Including this does add complexity, cost and time to a standard RAAB but with the enormous increase in diabetes globally, the need for data on diabetic retinopathy becomes ever more important. IAPB has recently secured funding from Bayer to add the DR module onto two RAAB studies in Mexico – we hope preliminary results will be available for the major World Sight Day event in Mexico that IAPB is planning – more news elsewhere.
Other Prevalence Studies
Of course, RAABs are not the only methodology that can be used for prevalence surveys. I was really pleased to hear recently about the plans to conduct prevalence studies in 10 provinces of China. ORBIS is putting a considerable sum into supporting this which is being conducted under the auspices of, and in close partnership, with the National Health and Family Planning Commission. The studies will start soon and give us a veritable goldmine of information about the prevalence and causes of blindness in the most populous country in the world.
Why is this important to the sector?
IAPB and IAPB Members are investing in this aspect of the GAP because apart from the valuable epidemiological data provided, we believe it can be a catalyst for change and increased investment in eye health.
An example of this was that recently I was able to enjoy a private dinner with Mr. Jun ZHOU – the Director-General in the Medical Administration Bureau, National Health and Family Planning Commission of the People's Republic of China. To get such an intimate and prolonged period with someone so senior in the government is a unique opportunity – we talked about the upcoming prevalence studies and the need to use the evidence generated from them to frame future government investment and policy in eye health. We also talked about the government's million cataract campaign and the need to build on this to increase the national cataract surgical rate. Mr Zhou was highly engaged and talked of personally attending the prevalence survey results dissemination workshop and supporting potential IAPB meetings in China.

Peter Ackland,
CEO