10GA. Some of you are possibly thinking that the next Assembly – 18-20 September 2016 – is ages away. But the IAPB team are determined that we will build on the success of Hyderabad 2012 and that means starting our planning even earlier this time round.
Alessandro Di Capua, IAPB's Membership Manager, will be playing a key role in delivering 10GA. Blandine Labry, IAPB's Finance Controller, has the experience and expertise to help plan for and manage the complex environment that we will be operating in. With 1000+ delegates and a new country every time, getting the correct systems in place and understanding the tax and financial landscape of the host country is critical to the GA's financial sustainability.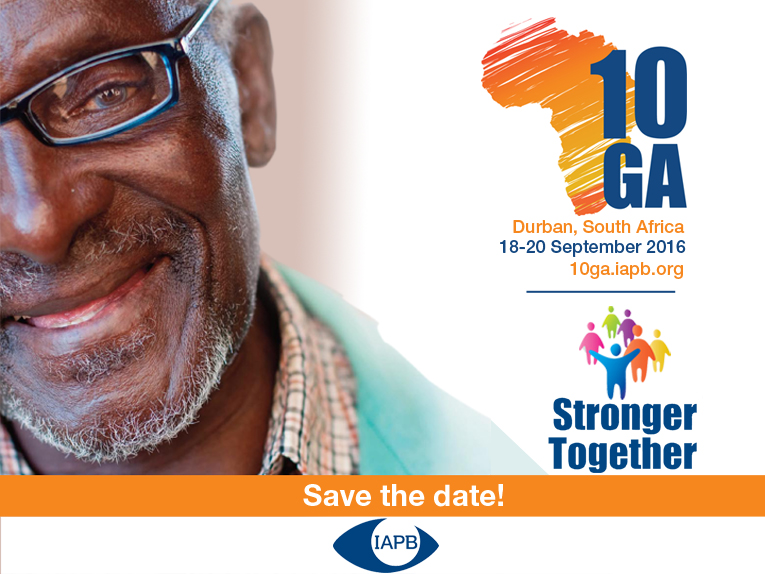 In May, the three of us set out for Durban, South Africa; home to the IAPB Africa team and the Brien Holden Vision Institute. As you know, Durban will be hosting 10GA in 2016 and the trip was to meet with partners, suppliers and a whole range of stakeholders involved. Over a packed work-week, we visited the venue, met with event suppliers and PCOs, our staple friends – eye health experts and enjoyed some great food (no detail too small!).
Our partnership with L V Prasad Eye Institute in Hyderabad may seem a tough act to follow; 9GA's resounding success sets a high bar. But we returned inspired by a beautiful city and the energy and creativity of the team at the Brien Holden Vision Institute in Durban. A huge thank you to Kovin Naidoo, our ever charming host, and Petronella Nichols and her fantastic team, we are so excited about working with you.
A big thank you to Ronnie Graham and IAPB Africa team too. We camped out in their office, took over flip charts, desks and the demand for tea doubled!
The teams in London and Durban are now set on a course of collaboration and partnership to deliver the next General Assembly. There is a lot of work to do but we are determined to make 10GA the 'must-attend' event in your calendar in 2016.