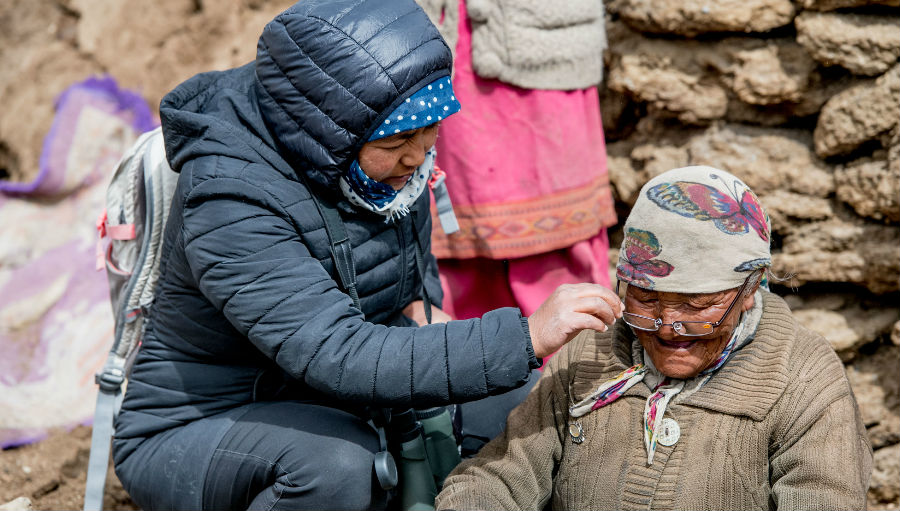 The year 2019 was crucial for our sector. It is the year before the end of the global campaign of IAPB and WHO Vision 2020 The Right to Sight. It is also the last year of WHO Global Action Plan 2014 – 2019. The Vision 2020 era is ending but our aspirations and global challenges in eye health still persist. In view of this, IAPB SEA continues to implement and monitor the progress of WHO GAP 2014-2019 and provide technical, programmatic and advocacy support to the countries of the region. As per the objective of the GAP, our focus continued on evidence generation so that we can assess progress and support and advocate the formulation of national eye health policies and plans. In this year, our collaboration with WHO, IAPB members and ministry of health in achieving GAP objectives was also successful. Some highlights of our achievement this year are appended below:
1. Evidence Generation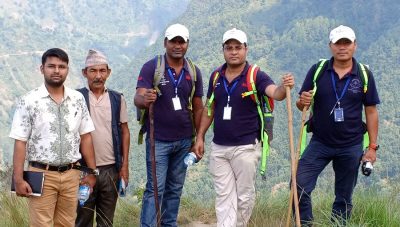 After 1981 and 2010 blindness surveys another survey is happening in 2019. IAPB's technical supervision and examples of successful implementation of RAAB surveys in the region was a great help to mobilize funds for this Nepal RAAB survey. A total of 7 RAABs are being carried out (some completed) to cover the whole nation. The cost of this national survey is budgeted at approximately USD 200,000. It has been supported by many IAPB members: Seva Foundation, The Fred Hollows Foundation, CBM, Eye Care Foundation, Swiss Red Cross, Norwegian Association for Blind and Partially Sighted (NABP), and the Nepal Government. We are expecting the final result in the first quarter of 2020. This will provide crucial information for the country and help in evidence-based eye health planning beyond 2020.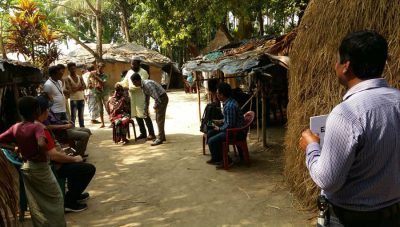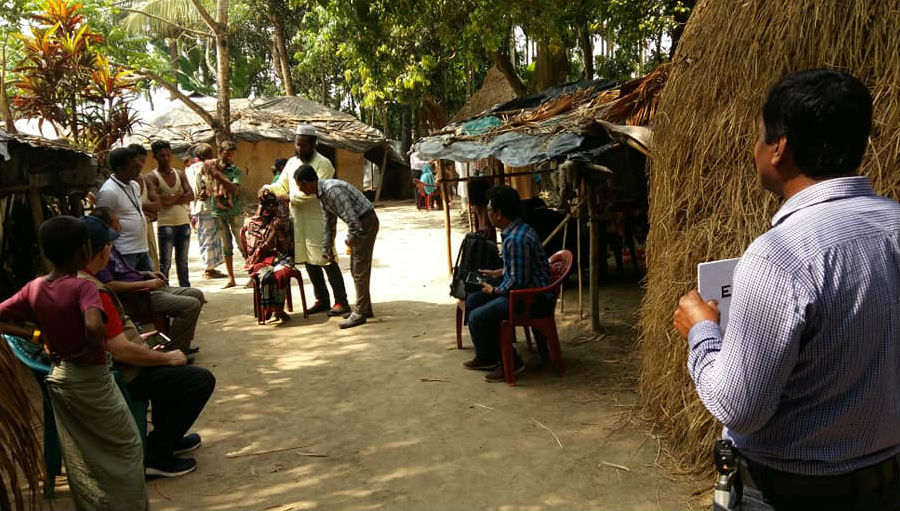 Given the size of the displaced population here, we felt it was necessary to assess the need of eye care in this population. IAPB SEA was deeply involved along with its members Seva Foundation and Orbis International providing technical support for eye health situation analysis and to carry out blindness and visual impairment survey using RAAB survey methodology for this population. Based on this evidence we are now working to formulate Strategic plan on eye health for Cox Bazaar district of Bangladesh.
a. RESC Study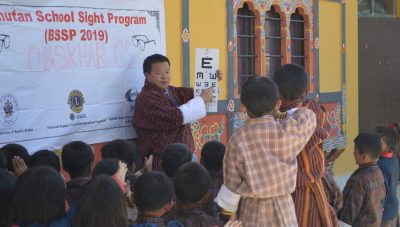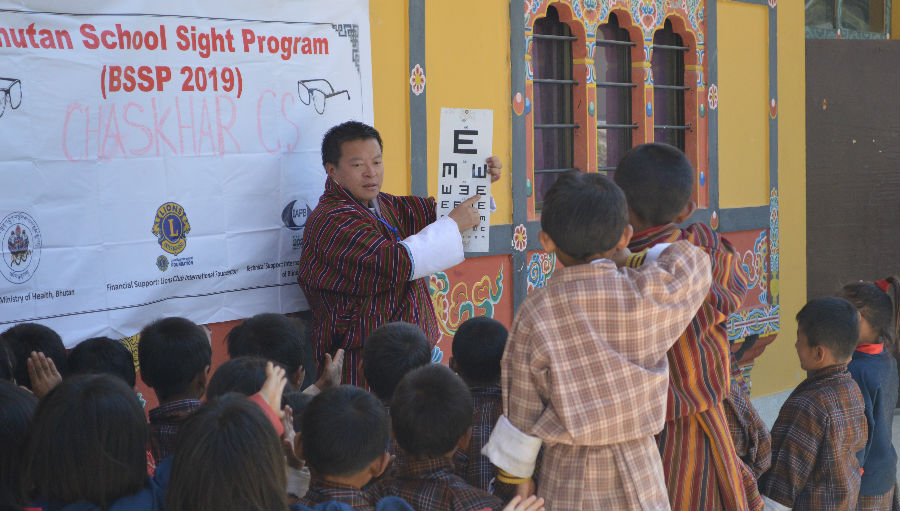 The global data shows that the visual impairment due to uncorrected refractive error is on the rise. The numbers are higher in the South-East Asia and Pacific region. Bhutan is the only country in SEA which does not have data on prevalence of visual impairment due to uncorrected refractive error (URE). Due to lack of this evidence refractive error and optical dispensing services were not receiving adequate priority in the eye care services. Therefore, IAPB SEA supported Bhutan Ministry of Health to carry out Refractive Error in School Children (RESC) study based on WHO RESC survey protocol. IAPB also mobilized the funding for this through Lions Clubs International Foundation (LCIF) and Mission for Vision. Essilor provided free spectacles to those who needed glasses. The eye care services in Bhutan are fully integrated into the health care system and we now hope the government and other eye care stakeholders of Bhutan will give adequate priority to children's eye care.
b. Vision Screening and Optical Dispensing of all Bhutan School going Children
We also supported fund mobilization for Bhutan Government to carry out Bhutan School Sight Programme. Approximately 170,000 school children underwent vision assessment and refraction for those who had vision impairment due to URE. Along with LCIF and Mission for Vision, WHO SEARO also supported this effort. In this project also Essilor provided free glasses for those who need it.
3. Regional Cooperation and Collaboration
• Our collaboration with Operation Eye Sight Universal (OEU) continued, extending support to develop a national plan and its implementation in Sri Lanka and Maldives.
• IAPB Regional Planning meeting successfully analysed the eye care services of SEA countries.
• In collaboration with WHO SEARO, IAPB SEA organized Regional Technical Expert's Meeting from 9 to 12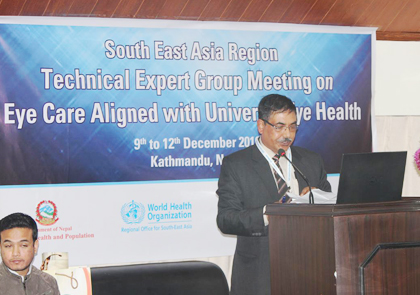 December, 2019 in Kathmandu. IAPB member and WHO Collaborating Centre Tilganga Institute of Ophthalmology was the implementing partner for this meeting. The meeting was attended by 37 eye health experts from nine countries of the region. The meeting made technical recommendations to WHO, IAPB, Member states and eye care stakeholders for the services to be expanded and improved upon: Cataract, Glaucoma, Diabetic Retinopathy, Children's eye care, Refractive error, Low Vision and Assistive devices. The meeting also formed a committee to formulate Technical Guidelines for treatment of DR for SEA countries.
Image on top: An elderly Tibetan nomad woman on the Changthang, Ladakh, India receives a pair glasses/ Photo credit: Julie-Anne Davies for #VisionFirst photo competition