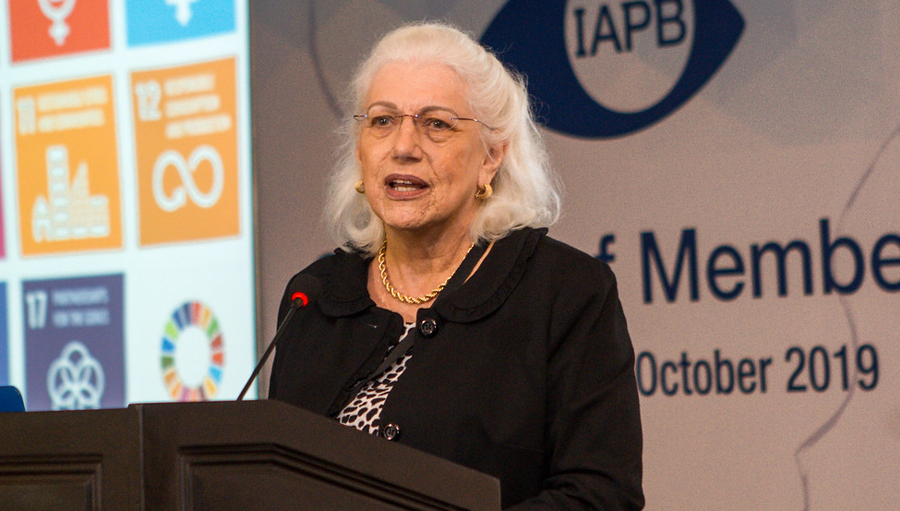 When I haven't travelled for about 3 months, I miss stepping over that little space between the jetway and the plane and soaring to my next challenge.  Leaving 2019 and embarking on 2020 feels like that to me.  Two decades have flown by since our meetings at WHO in 1999 to launch VISION2020/The Right to Sight. The Vision Atlas shows us that much has been achieved. We used to call our work "public health ophthalmology" because our main foci were trachoma, vitamin A deficiency (VAD), and onchocerciasis not seen in the developed world, and of course cataract.  Blinding cataract has been reduced even with a global population that is increasing and aging.  Tremendous reductions in blindness rates due to trachoma, VAD and onchocerciasis are thanks to the efforts of IAPB member agencies, ICO, our wonderful supporters, and the increased emphasis on eye health by WHO and governments.
In a few days, we will ring in 2020 and are challenged by what comes next. The World Report on Vision launched on the eve of World Sight Day this year is WHO's gift to us creating a roadmap for the next 10 years. The report's simple message that 2.2 billion people have visual impairment, 1.2 billion have received services, and another 1 billion could have had their impairment prevented or are yet to receive services is easy to remember and a gap that we can close.
We are indeed left with the high hanging fruit including glaucoma, retinal diseases, ROP, the emerging threat caused by diabetes, and the need to make available affordable spectacles to the tens of millions of people who need them but do not yet have them. Ambassador Aubrey Webson's keynote at the IAPB Council of Members meeting in Dar es Salaam inspired us to meet these challenges by being smart, innovative and collaborative.
In 1999, we awaited what was called "the information superhighway" having no idea what it was, how it would affect all our lives, or how it would bring us together. Communication, e-learning, webinars, and the promises of AI make 2019 very different from 1999. The excitement is palpable and figuring out how all of this will work in a global eye health development context is our challenge.
Mark your calendars for IAPB's sentinel Global Assembly in Singapore 12-14 October 2020.  President Bob McMullan and I will be completing our four-year terms and we're excited about where IAPB will go next. Peter Holland, Joanna Conlon, Nick Parker and the rest of IAPB's wonderful staff working closely with the team at the Singapore Eye Research Institute and the Singapore National Eye Centre, our hosts, promise a spectacular event where we all will celebrate our achievements and look ahead to a bright future for the people we are dedicated to helping around the world.