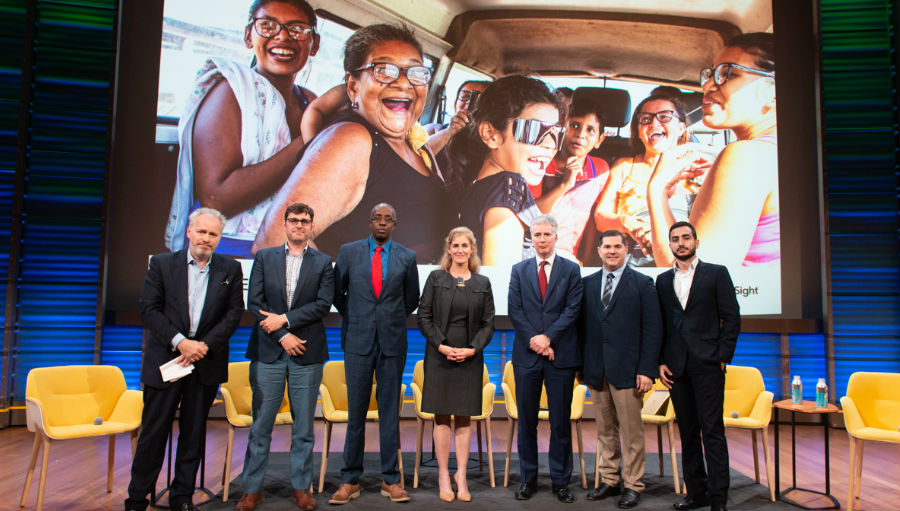 At a symposium hosted by OneSight in conjunction with the National Geographic Society, an international panel of vision care experts reported on the successful outcomes and broad impact of vision care access on underserved communities. The panel declared that lack of vision care access continues to be a pervasive issue costing $230 billion in lost productivity globally.
The discussion covered what lack of vision care access looks like around the world, including the United States; the impact of clear sight on education and productivity and how it affects economic potential, especially for women since there is significantly higher sight loss among girls and women, and the technological innovations that are making it possible to reach remote areas, such as the Amazon and rural China.
Panelists included:
K-T Overbey, President and Executive Director of OneSight
Matthew Boswell, Co-Founder and COO of Smart Focus
Max Maia, Executive Director of the Methodist Hospital Boat, Amazon Mission
Peter Holland, Chief Executive of International Agency for the Prevention of Blindness
Justin Cave, Chief Executive Officer of Advanced Center for Eyecare
John Nkurikiye, Chief Consultant Ophthalmologist and Cornea Specialist and President, Rwanda Ophthalmology Society
The panel also examined the vital role partnerships play in implementing solutions and focused on the self-sustaining vision center model, which OneSight, a leading global vision care nonprofit, has employed to provide permanent access worldwide. The coalition of partners agreed that raising awareness of the issue and its importance requires a collected and concerted effort, as each country presents a unique set of circumstances.
For instance, Dr. Nkurikiye stated that there were four ophthalmologists for 8 million people in Rwanda in 2002. He later relayed the empowering and economic impact of clear sight on basket weavers, who are mainly women, after OneSight established 18 vision centers there. Max Maia remarked that there are more rivers than boats in the Amazon, where there are four people per kilometer and noted that people are not able to reach providers but that providers will need to reach them. And in Bakersfield, CA where 1 out of 5 people live under the poverty level, Justin Cave divulged how the city is overlooked by services because of its high poverty and low education rates. 84% of population do not have a bachelor's degree.
K-T, OneSight's President and Executive Director, further stressed that solutions need to be approached from different perspectives, including looking at technological advancements to help provide access. She cited the utilization of Kaleidos, a mobile refractometer that rapidly measures both eyes at the same time and transfers results automatically to vision clinic software, enabling doctors to quickly and effectively give comprehensive eye exams anywhere—even in the remotest environments.
A photograph exhibit allowed guests to visualize what closing the vision care gap looks like on the front lines through the lens of National Geographic and Pulitzer Prize winning photographer, Stephanie Sinclair. In her keynote speech, Sinclair chronicled an OneSight expedition through the Amazon. She talked about and illustrated some of her favorite patient stories, including the 73-year-old grandma who made all her family travel hours to get their vision checked at the Amazon boat vision center. Nearly all needed glasses. (Photo available.)
OneSight is a leading global nonprofit organization dedicated to creating a world where lack of access to vision care is no longer a barrier to human achievement and potential. From one-week charitable clinics, serving those with acute need, to long-term self-sustaining vision centers, OneSight delivers quality eye exams and glasses to underserved populations throughout the United States and communities around the world. Over the past 30 years, the organization has served 10 million patients in more than 50 countries.