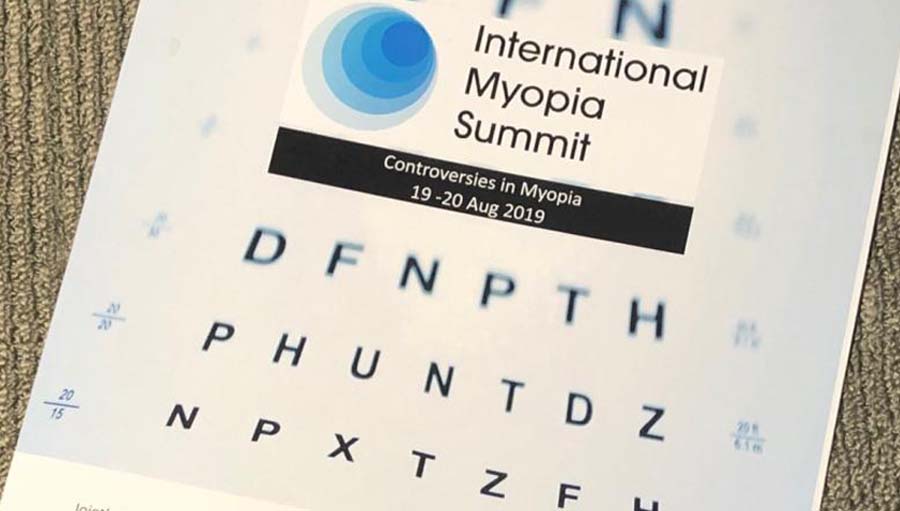 Myopia is not a public health problem. Definitely not so, when the governments or health systems of the world are tackling so many conditions that end lives or cause severe morbidity. The Singapore Eye Research Institute (SERI) ran a two-day Myopia summit: "Controversies in Myopia", to debate and discuss various aspects of the Myopia epidemic. The summit was a follow-on meeting from last year's joint IAPB/WHO Meeting on Myopia Control Strategies at SERI (funded by the Brien Holden Vision Institute).
SERI chose an off-beat format to break away from the lecture mode and encouraged "debaters" to take pro and con arguments for various aspects of myopia care and delivery.
And Wong Tien Yin, Medical Director at SERI, set the tone of the debates with his provocative remarks on Myopia's seeming irrelevance. It challenged speakers to question (or defend) assumptions and accepted solutions.
In a fascinating series of presentations over two days, a raft of speakers took up topics that began at the fundamentals: are current Myopia definitions adequate to inform public policy? Does it matter? Many speakers noted that Tien Yin had voiced the unspoken assumption behind many public health decision-makers. The challenge was to find a way to convince governments to invest in Myopia. How would that be possible? Tien Yin and Mingguang He (Centre for Eye Research Australia) debated solutions ranging from economic analysis to foregrounding important cultural factors like the importance of children and their vision.
Schools and the onset of Myopia
Zhu Jianfeng (Shanghai Eye Disease Prevention and Treatment Center) and Priya Morjaria (International Centre for Eye Health/Peek Vision) debated compulsory outdoor time for all school children. While there is a lot of evidence supporting the need for sunlight in delaying the onset of Myopia, Priya argued against a one-size-fits-all strategy. She reminded the delegates that behavior change is complex and we need to incorporate feedback into our strategies. But what about mandatory breaks built into school time? Drew Keys (IAPB Regional Manager, West-Pac) and Wong Chee Wai (SERI) discussed the need for outdoor time for the overall development of children, irrespective of its impact on Myopia onset. With academic pressures on children, Drew argued for mandatory breaks from near-work to tackle myopia onset (and to incorporate play-time). As his opponent, Wong Chee Wai noted the lack of strong causal links between near-work and myopia (yet).
Myopia control
Padmaja Sankaridurg (Brien Holden Vision Institute) and Marcus Ang (SERI) debated the tools available to tackle and control childhood myopia. Padmaja discussed the benefits of orthokeratology and compared its lesser side-effects with 0.05% atropine. Marcus noted the fact that keratitis is under-reported in real-life cases and should be a factor when considering orthokeratology. The group weighed the pros and cons of both interventions, including photophobia. Donald Tan and Cheryl Ngo debated the use of atropine in children with "low" myopia, with Cheryl pointing out that sunlight continues to be the best solution to delay onset. IAPB's Regional Chair for West Pacific Amanda Davis argued for the impact of environmental factors over genetic factors in myopia onset with Cheng Ching-Yu, with the group settling somewhere in between.
And so, the debates continued discussing a wide-range of perspectives and solutions around Myopia control. A small team from IAPB were at the summit. GA2020 was on our minds, of course, but so were our GA hosts, SERI. The event had brought together an interesting mix of ophthalmologists and optometrists from around the world, including other IAPB member organisations. The conference was supported by the World Health Organization (WHO) WPRO office and IAPB Western Pacific. Delegates from Australia, China, Taiwan and Singapore discussed various aspects of Myopia over the two days. We thank Dr Marcus Ang and Prof Aung Tin for inviting us over, and for the opportunity to join them in celebrating their brand-new myopia clinic in SERI. A big thank you to our friends at SERI.
Tweet Thread
The IAPB WestPac team talks about the future with SERI: #GA2020! Let's #ActNow! pic.twitter.com/V98X7cR048

— IAPB (@IAPB1) August 19, 2019