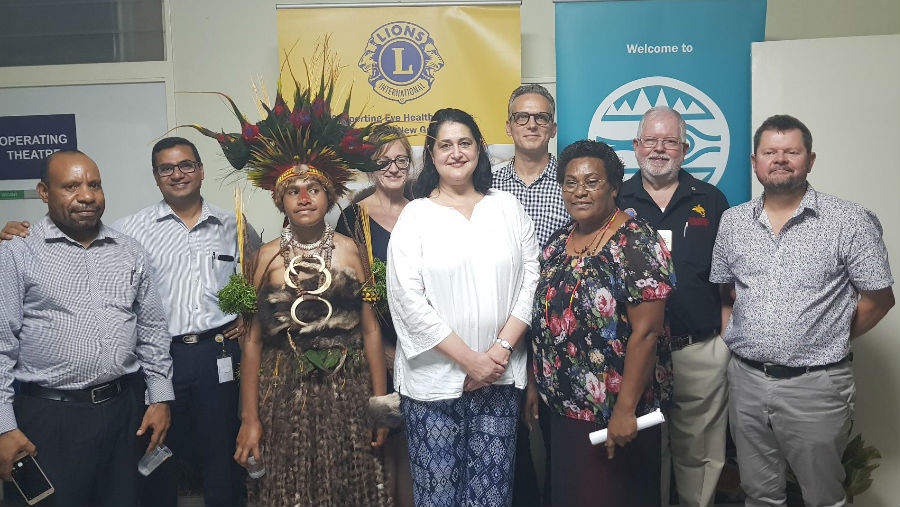 In Papua New Guinea (PNG) there are so many activities associated with World Sight Day that events typically stretch throughout the month. This October was no different, culminating in a plethora of activities during the last week of the month. There was a Trachoma Action Planning Workshop led by the Fred Hollows Foundation Australia, a RANZCO initiated Ophthalmology Train-the-Trainer Workshop, and a preview of the new Lions Clubs International Foundation (LCIF) funded Port Moresby General Hospital Eye Clinic (PMGH), a project led by Brien Holden Vision Institute (BHVI).
These events have never been more necessary. As many readers will recall, PNG was highlighted in the recent Rapid Assessment of Avoidable Blindness as having some of the worst rates of blindness in the world; for example in the Highlands where 11% of women over 50 are blind. Sadly – and despite the hard work of our small but passionate eye health community – this is largely preventable. As Dr Jambi Garap, President of the PNG Prevention of Blindness Committee highlighted to assembled guests at PMGH, "Many of these needlessly blind people don't even know their problems can be fixed." That's why World Sight Day is so important – eye care everywhere means "everyone should get an eye test and get their sight fixed wherever possible!"
As such, events in the country focussed on all aspects of eye health – from HR up-skill, to service delivery to a focus on new facilities. Some of the highlights included:
Robert Ko presenting to students at University of Papua new Guinea on his recent trip to Malaysia to learn from IAPB and World Health Organization about the importance quality Cataract Surgery Outcomes.
Laila Foundation holding an eye exhibition, with posters, video and slide shows on common eye problems, free eye checks and free cataract surgery at Lae Pacific International Hospital
Port Moresby City Lions club held its Annual Blind Walk led by the police band.
Madang Fred Hollows Foundation Clinic staged their awareness programme at the marketplace and also through the local radio station.
Nonga Hospital Rabaul were sponsored by two local companies to stage a float from the hospital to Rabaul Town and then to Kokopo Town raising awareness and giving appointments for eye checks at the hospital.
CBM led an outreach to Migende, Simbu Province on the 14-19th, October.
YWAM Medical Ship docked in Milne Bay Province to hold a Cataract Surgery Outreach at Alotau.
PNG Eye Care, Brien Holden Vision Institute and PMGH will be finalising plans for the opening of the Lions Club funded clinic at PMGH, later in the month
As you can see, with so many activities it's truly eye care everywhere in PNG, this World Sight Day!
Image on top at the preview of the PMGH Eye Clinic:
L to R: Director Medical Services, Dr Molumi ENT; PMGH CEO Dr Umesh Gupta, IAPB Regional Chair and CEO Brien Holden Vision Institute Ms Amanda Davis; RANZCO Dean of Education, Dr Catherine Green AO; Advisor on Eye Health to WHO Western Pacific, Dr Andreas Mueller; Dr Jambi Garap; LCIF and Lions District 201Q2 Rep, Garry Kenny; RANZCO General Manager Policy & Programs.