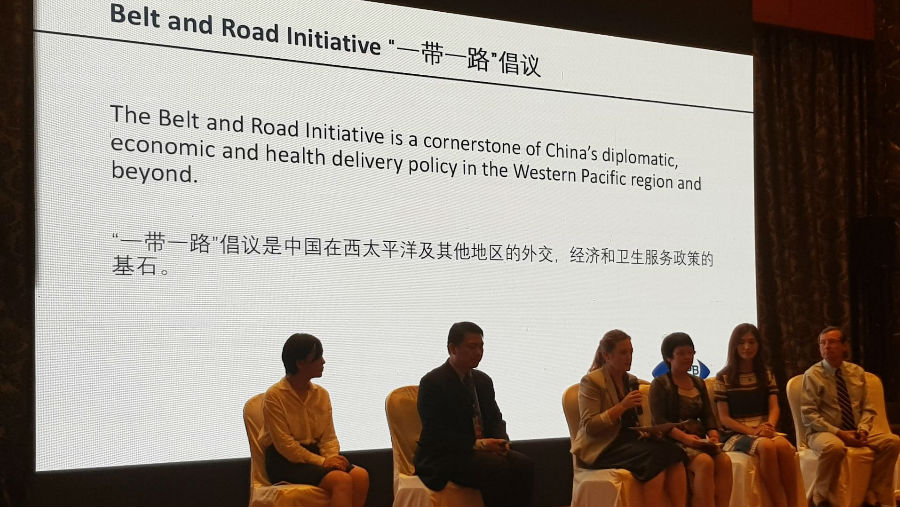 IAPB Dialogue – The Belt & Road Initiative: Forging New and Improved Partnerships
China's National Institute of Hospital Administration (NIHA) held the 2nd National Eye Health Conference in the ancient city of Hefei, capital of Anhui Province.  On Friday August 24, IAPB partners and friends joined in a session to discuss the Belt and Road Initiative. During the preceding presentations, chaired by Professor Zhao of Beijing Medical College, the engagement of China's Eye Health Sector was on full display. There were presentations from as far afield as Tilganga Eye Hospital in Nepal and London School of Hygiene and Tropical Medicine. But where this session differed was in showcasing the initiatives the Chinese Eye Health Sector is taking to the world.
The Belt and Road Initiative is a cornerstone of China's diplomatic, economic and health delivery policy in the Western Pacific region and beyond. IAPB recognises that this is of very great interest to both our members in China and also our members outside of China, who are often the recipients of Chinese aid and expertise. This dialogue explored the varied ways that Chinese and foreign organisations can build new partnerships and develop stronger ties of expertise and service delivery. Participants from a diverse range of Chinese members –Shanghai Eye Disease Prevention and Treatment Center, He Eye Specialists, AIER Group and Zhongshan Ophthalmology Center joined Regional Chair, Amanda Davis on stage to discuss successful regional projects as well as opportunities for further strengthening and improvements.
Participants at the session workshopped the key ingredients for a successful outreach visit:
Good communication between visitors and hosts, including in the pre-visit phase
An awareness of cultural differences and differing equipment needs and set-ups
The importance of including local HR up-skill as a way to ensure better sustainability
Session attendees were in good hands – between them, these organisations have extensive involvement in the development of global outreach services. For example, Zhongshan has recently undertaken visits to Fiji, Tonga and Vanuatu plus three surgical visits to the Maldives. As a result they have been tasked by China's National Health Commission with RMB 7.87million project to develop a Maldives training institute complete with equipment and staff training. Similarly in Shenyang, the He Eye Specialists are also focussed on training – at a China/Africa summit in Beijing in August MOU were signed with numerous African organisations including Ophthalmology College of Eastern, Central and Southern Africa. Meanwhile AIER Group highlighted involvement in activities such as the RAAB dissemination meeting in Laos as integral to blindness prevention.
Our panellists were tasked with delivering a better understanding of the ways that Chinese and foreign eye health organisations can interact under the Belt & Road Initiative. The 200 attendees were not disappointed.  They went away with a better understanding of what makes a successful Belt & Road Collaboration with the central tenant being good communication of expectations from both service provider and service recipient. Working together in this way will ensure growth and improvement in projects.