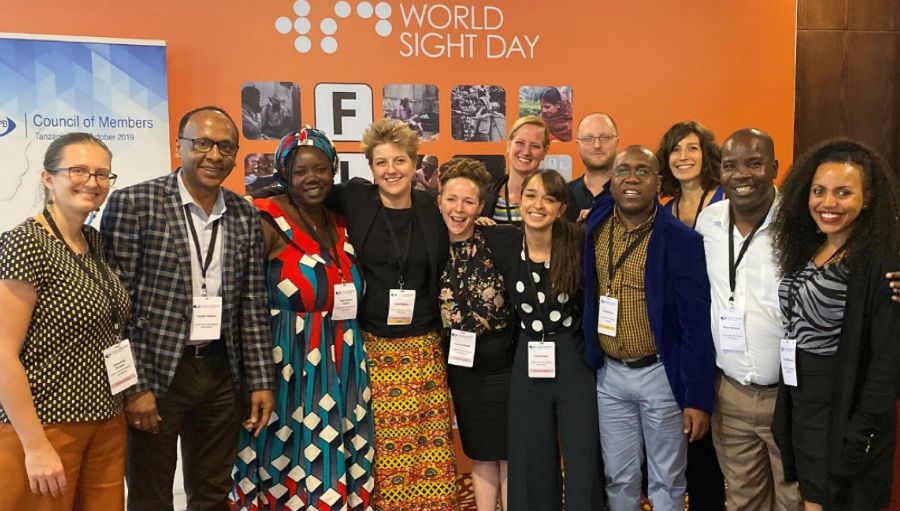 The IAPB Council of Members held its promise of offering a unique platform for exchange with the international Eye Health community. I came back truly inspired from Tanzania!
For me the Council of Members has once again crystallised the need to continue to intensify efforts to strengthen human resources for Eye Health. The need to improve the quality and comprehensiveness of services alongside building evidence and integration in health systems.
The simultaneous launch of the World Report on Vision was on everyone's minds and confirmed that our joint efforts have been successful on the one hand but we will also need to continue these in the years to come. The concept of integrated, people-centred eye care, promoted in the Report, gives the community a confirmation that by working hand-in-hand with Ministries of Health to make sure eye health services reach those who need services the most, we can make a huge difference in the lives of people for generations to come. Ensuring inclusion of persons with disabilities and gender equity must be a key consideration in doing this.
My colleagues from Light for the World and I were thrilled about the motivating session of our partner the Islamic Development Bank. The ambition of their second generation of the Alliance to Fight Avoidable Blindness (2018-2023) programme, in which the role of Ministries of Health is central, promises great things for Eye health in Sub-Saharan Africa. It is great how our consortium members and partners have been engaged and committed in the planning process so far.
I was delighted by the great interest, participation and active discussions during our own breakout session on sustainability that once again highlighted the need to strengthen systems to achieve long-term impact in addressing population needs.
Even an often-underrepresented topic, such as glaucoma, got a spot on the agenda and is gradually gaining more attention. I am so glad that IAPB members are coming together around the topic and I am curious to see where the discussions and the excitement will take us in future!
Last but not least, I thoroughly enjoyed meeting old and making new friends! Congratulations IAPB for the great success!