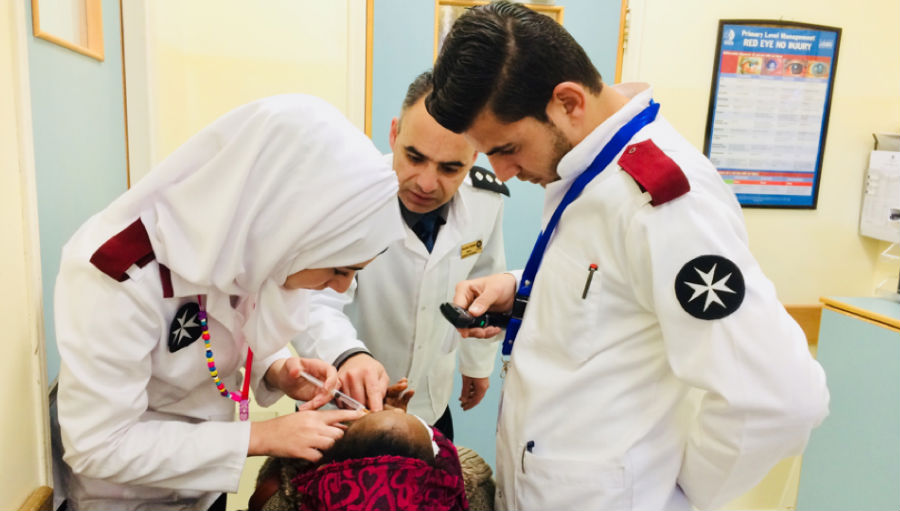 St John of Jerusalem Eye Hospital Group has been working to end preventable blindness in the occupied Palestinian territories for 137 years. Throughout our history, in one of the world's most politically unstable regions, one constant has been the steadfast dedication of our medical and nursing staff.  Over 200 nurses have been trained through our Sir Stephen Miller School of Nursing, accredited by the University of West London. Our school is considered one of the best ophthalmic training programmes in the Middle East.
Today, all of our senior managerial positions are held by graduates from this training programme. This includes our Joint CEO, Dr Ahmad Ma'ali, who, alongside his co-CEO Peter Khoury, are the first Palestinian CEOs of St John Eye Hospital. Dr Ma'ali understands the importance of our nursing team, who he describes as "the backbone of our organisation".
In November we welcomed six new students to commence their training at the Sir Stephen Miller School of Nursing. Dua, one of the nursing students, has shared some insights from her first few weeks working with us at St John.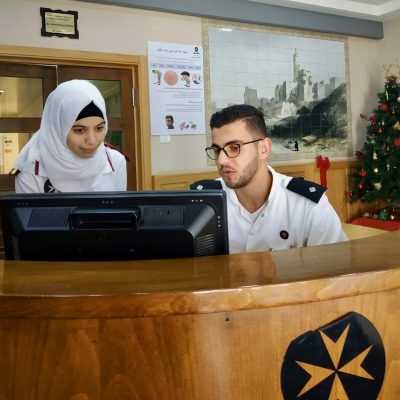 "My ambition to become an ophthalmic specialist was shaped by personal experience. At 16, I accompanied my grandmother for a hospital visit and watched the incredible care given to her and other patients. The nurses not only provided healthcare, but also social and psychological support. It was beautiful to witness and was the moment I decided to become a nurse.
My decision to become an eye health specialist came years later, after my graduation from nursing school. My first general placement was in a diabetic clinic. Almost every patient who presented at the clinic had diabetic retinopathy, and every one of them were referred to St John Eye Hospital. Many of them had very advanced conditions. I came to understand the real need to prevent the onset of diabetic retinopathy, which needlessly blinds so many across Gaza, the West Bank and East Jerusalem.
The early stages of the course turned out to be more interesting than I had expected. One highlight was witnessing a young patient who had a small mass on her eyelid. It was a simple procedure to remove, but the affect it had on the patient was incredible! The mass had made her so self-conscious she was scared to leave the house. Now she's delighted that her face has regained normal shape. It taught me an important lesson – even the simplest eye problems can cause people psychological constraints.
The scholarship offered by the Sir Stephen Miller School of Nursing is necessary for me to undertake this specialism; there is no way I could have ever afforded it otherwise.
I am so grateful to have this opportunity."
Hamza is another of our school of nursing students, who comes from a remote West Bank village. He explains his motivations for joining St John: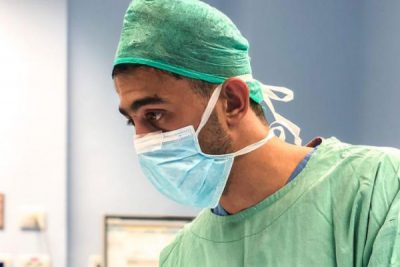 I chose to study nursing because I wanted my career to be challenging, interesting, and make a difference in people's lives on a daily basis. In the nursing profession, you deal with many aspects of patient care, and I enjoy this diversity. Also, nurses can find jobs in our country which suffers from high rates of unemployment.
After my graduation from general nursing, I wanted to develop my nursing career. I knew about the Sir Stephen Miller School of Nursing and was impressed that the course was accredited by the University of West London. I have the ambition to be a leader in this subspecialty and am excited to see where this career takes me.
It was great to see a patient regain his vision after being almost blinded by an infection in his eye. He suffered a lot in the isolation room and the nurses worked hard with him because he needed intensive care. It was very moving to see how much the patient and his family appreciated their treatment."