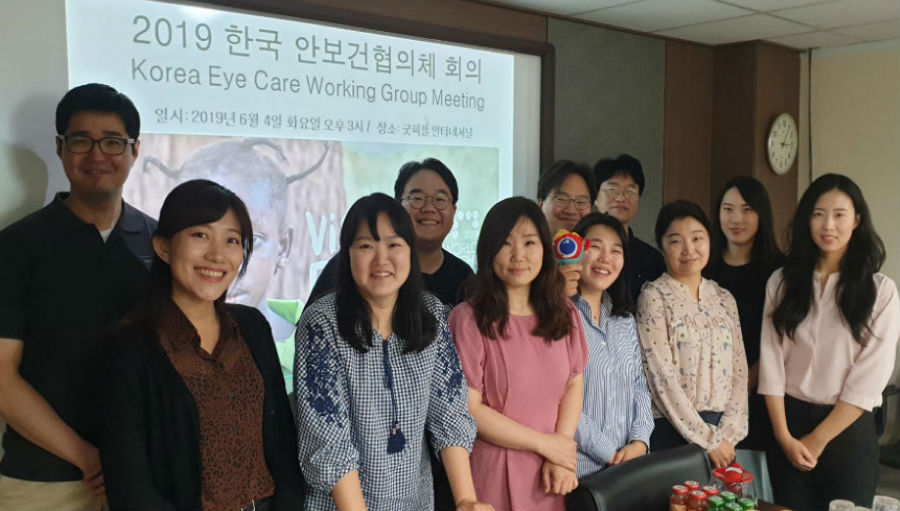 On the 4th of June, 2019, representatives from IAPB member organizations in South Korea gathered together for the 2nd meeting of Korean Eye Care Working Group (KECWG).  The members were Good People International, Korean Foundation for the Prevention of Blindness, Project BOM affiliated with Yonsei University Severance Hospital, and Vision Care Services.  Tech start-ups concerned with global eye health (Braillist and LabSD) along with Korea Ophthalmological Society (KOS) also took part.
Initiated in May of the previous year, KECWG has been serving as a platform providing opportunities to share lessons-learned from each organization's activities while preventing operational redundancies in the field. The activities of KECWG member organizations, in fact, are quite unique in a way that they are not limited to domestic eye health issues. Most member organizations are currently implementing projects in resource limited conditions in their partner countries while domestic activities are focusing more on advocacy to increase awareness for the importance of global eye health to the South Korean population. There also were rather non-traditional member organizations at the KECWG: start-ups equipped with technologies for prevention of blindness and social inclusion of people who are irrecoverably blind. In a close collaboration amongst member organizations, KECWG visions to tackle obstacles when accessing services related to vision together.
The major issues covered at the 2nd KECWG were brainstorming for the Global Assembly 2020, planning for the World Sight Day 2019, and discussions about having a Korean Session at the 2019 IAPB Council of Members– yes, it is going to happen. If you would like to meet the members of KECWG in Dar es Salaam, Tanzania, you are all invited for the session at lunch on the first day of 2019 IAPB CoM.