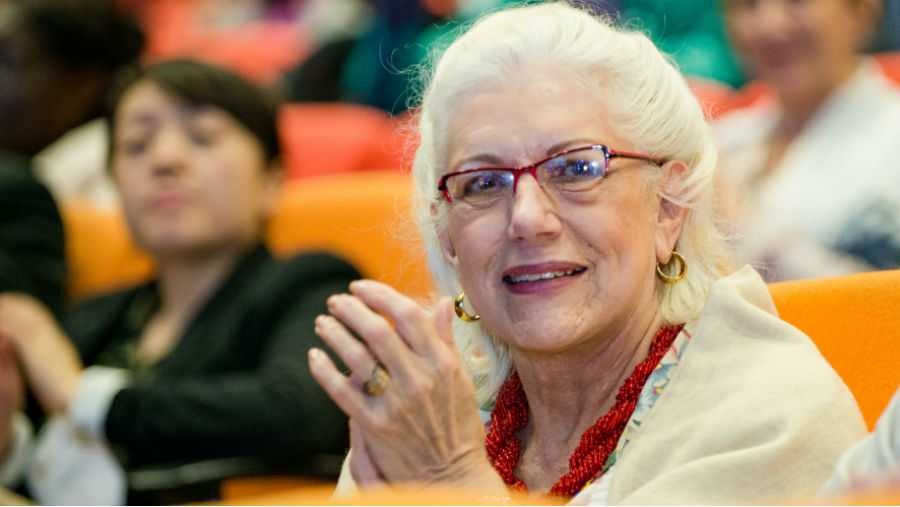 Dear colleagues,
IAPB has seen a number of changes over this fast-paced year!  We welcomed Peter Holland as our new CEO who brings extensive international and management experience. He immediately dedicated time to speak with all members either in person or by phone, took on the strategic planning process for the Secretariat, and moved IAPB's headquarters to a more adequate space. Peter impressed us at the Council of Members (CoM) in Hyderabad when he began his remarks in fluent Hindi having served in India with the British Foreign Service for four years.
We very much appreciate the contributions made to IAPB by former CEO Peter Ackland and former Director of Advocacy Johannes Trimmel. I am grateful to so many of you who answered the call contributing to the CEO Transition Fund and to those who made special contributions above your annual dues.
IAPB is proud of the trachoma, onchocerciasis, and NTD programmes as more countries reach their elimination targets.  Standard Chartered Bank's "Seeing is Believing" has greatly improved eye health in so many countries and we celebrate its support as the programme comes to a close in 2020. We also celebrate our long relationship with the Lions and welcome new relationships with Rotary International and the Islamic Development Bank. Partnerships and alliances with non-eye health agencies are a strategic aim of IAPB following our 2016 GA theme of "Stronger Together".
Reporting your successes to IAPB is important. I encourage every member to send 2-3 bullet points of your achievements to the IAPB Regional Chairs covering the countries where you work. Regional Chairs report to the Board in April and September, therefore, reports received by March and August can be included. Please don't send full reports, just bullets of the recent six months. Meet your IAPB Regional Chairs.
IAPB's annual CoM brought together 328 delegates for the excellent symposia, working groups, technical exhibits, Eye Health Heroes, and opportunities to network. We celebrated our host LV Prasad Eye Institute's 20th anniversary of its International Centre for Advancement of Rural Eye Care which has become a model for India and other countries. Kudos to Joanna, Emma, Tejah and the whole IAPB team in London and Hyderabad for the excellent programme.
Importantly, Dr. Alarcos Cieza from WHO headquarters presented at the CoM giving an in-depth presentation on the World Report on Vision which will integrate eye health into Universal Health Coverage, something IAPB members have worked toward for decades. To be published in early 2019, governments are to incorporate eye health services and report on their activities. In 1999 when we established VISION2020: The Right to Sight in Geneva, 2020 was a generation away.  Now one year off, we wondered what is next? As I said at the CoM's closing ceremony, the Report is a gift, it's our way forward and IAPB members will stand ready to support governments in this endeavor.
Thanks go to Bob McMullan for his leadership, the Board for its stewardship, the Regional Chairs for their liaison,and the staff for making IAPB the strong advocacy voice for eye health around the world.  And thanks to all of you for supporting, participating, and bringing your voices, experience and expertise to this wonderful coalition.  You are the heart of IAPB. Happy holidays to all.