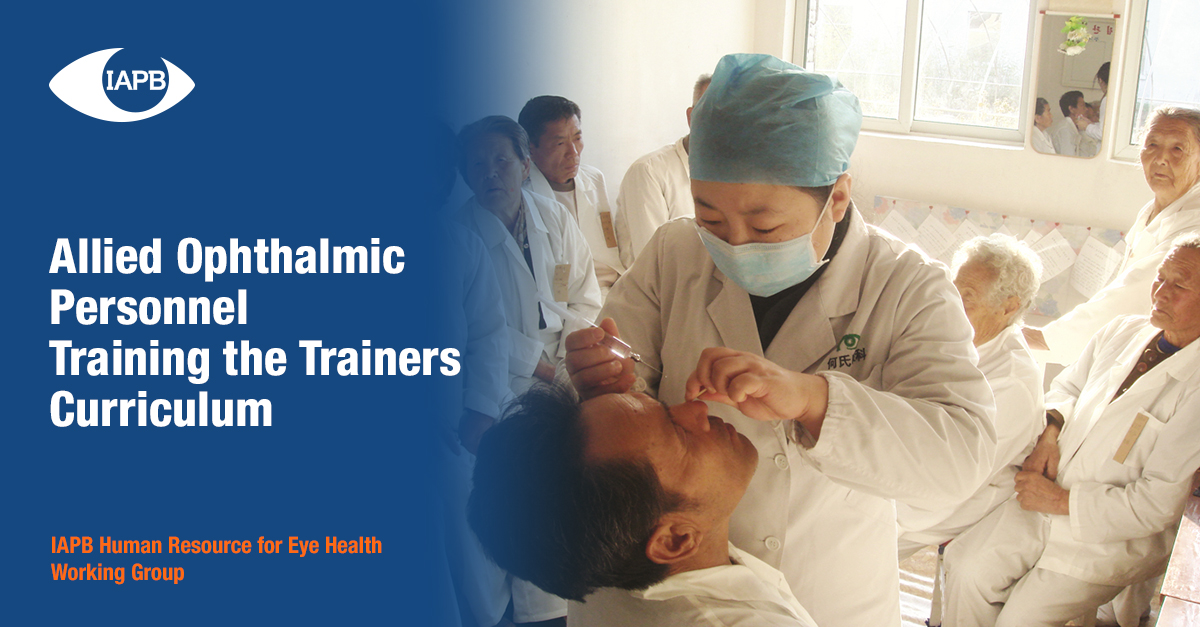 The WHO Global Action Plan 2014-19 notes that "Allied Ophthalmic Personnel" (AOP) comprise opticians, ophthalmic nurses, orthoptists, ophthalmic and optometric assistants, ophthalmic and optometric technicians, vision therapists, ocularists, ophthalmic photographer/imagers, and ophthalmic administrators.
Lack of well-trained eye care team members is one of the most significant barriers to delivering and improving eye care globally. Skilled AOP are needed to produce efficient, low-cost eye care teams. This in turn requires expert trainers to develop competent AOP.
In 2015, IAPB with partners International Joint Commission on Allied Health Personnel in Ophthalmology (IJCAHPO)/ Joint Commission on Allied Health Personnel in Ophthalmology (JCAHPO) and ICO signed the Cambridge Declaration. The declaration acknowledges the critical role of AOP in the delivery of high quality comprehensive eye services – and their role in achieving Universal Eye Health.
But despite this, their development has often been neglected, with gaps in their skills and capacities, especially when compared with other cadres of eye health personnel.
The "Allied Ophthalmic Personnel Training the Trainers Curriculum" provides resources necessary to educate trainers of AOP to be effective educators. It highlights a list of competencies believed to be important for trainers of AOP.
The effective practices for eye care team has case studies from India, Latin America and East Africa. They offer insight into:
priority points in the organisation of the eye health workforce
systems for training
consideration of retaining and providing continuing professional development
Two of the case studies have been provided by IAPB members: LV Prasad Eye Institute and Aravind Eye Care System.
The Resources for Allied Ophthalmic Personnel is a list in progress, to which more additions will be made.
I would like to thank all members of the work group for their commitment in producing such excellent resources.
Liked it? We have more posts for International Nurses Day