For World Glaucoma Week, Dr Abdullahi Sadiq Mohammed takes to fiction to illustrate glaucoma's impact!
Family members of a renowned Professor of medicine are yet to recover from the tragedy that had befallen them following a devastating and heart-breaking theft that resulted in a total loss of vision. It was a theft in broad daylight that went successfully unnoticed in a busy home of a University Don.
Terrified, worried and confused, the Professor immediately reported the matter to the nearby police station. An officer in charge of the investigation, a specialist in cracking occult thievery, interrogated all the family members in search of a clue to unlock the mystery. In the course of the interrogation, the officer discovered that a similar incidence was said to have befallen the Professor's late uncle.
Comprehensive analysis pointed to an unsuspecting visitor. An innocent-looking masquerade who had been lurking around for a while without catching anybody's attention. A similar suspect was sighted during reviews of previous crime scenes and they had been hot on their trail. It was baffling to everybody that the suspect had been ruthlessly pursuing people with similar age attributes – in their early 40s to late 60s. The modus operandi have also been the same. It creeps in unnoticed and causes havoc silently before being discovered.
The twin domiciles
The suspect operates with an international syndicate whose members had been declared wanted in many countries across the globe. It was also discovered that the suspect had a twin who is more ruthless and violent. Although the twin domiciles mainly in Asian countries, it occasionally appears here in Africa.
Following unrelenting surveillance and diligent investigation, the twins were identified, but they are yet to be apprehended and arrested. The twins are POAG (primary open-angle glaucoma) and PACG (primary angle closure glaucoma). Although POAG stole the Professor's vision, PACG also steals other people's vision in our midst, painfully. Gonioscopy is the key that unlocks the mystery of the twins.
---
The glaucomas, including their secondary cousins, escalate the number of people with glaucoma from 60.5 million people in 2010 to 79.6 million by the year 2020. It would seem that the people of Africa are "soft targets" and therefore easy to consume since many people lack knowledge of glaucoma blindness prevention and a considerable number do not have equitable access to universal eye care.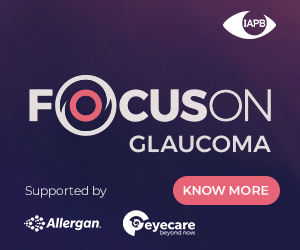 The key to early detection of glaucoma and glaucoma blindness prevention is regular eye examination especially for family members of those affected, and when going for reading glasses and during checks for diabetes or hypertension. Important aspects of examination for earlier detection of glaucoma involve checking the eye pressures, visual fields, and assessing the physical structure of the optic nerve head – by visual assessment (funduscopy) or with a fundus photograph or the sophisticated optical coherence tomography (OCT).
We must educate people with glaucoma to adhere to their medications and go as far as offering them surgery. If only we could pool our resources through health insurance contributions and taxations towards Universal Health Coverage (UHC)… If only we had more money, we would make available newer, more effective anti-glaucoma medication, newer glaucoma surgical devices and equipment (tubes, shunts and stents); and even equip every eye centre with laser treatment equipment since many people fear the surgical knife. We could even do clinical research to determine what works best and how.
We need to put our heads, hearts and minds together to put the searchlight and Focus OnGlaucoma; to Beat Invisible Glaucoma, BIG time. Nobody is immune. And so, it is Everybody's Business.
Get your eyes checked, it is World Glaucoma Week.