For World Glaucoma Week, Ana María Vasquez on how education can be deployed as a tool for glaucoma prevention…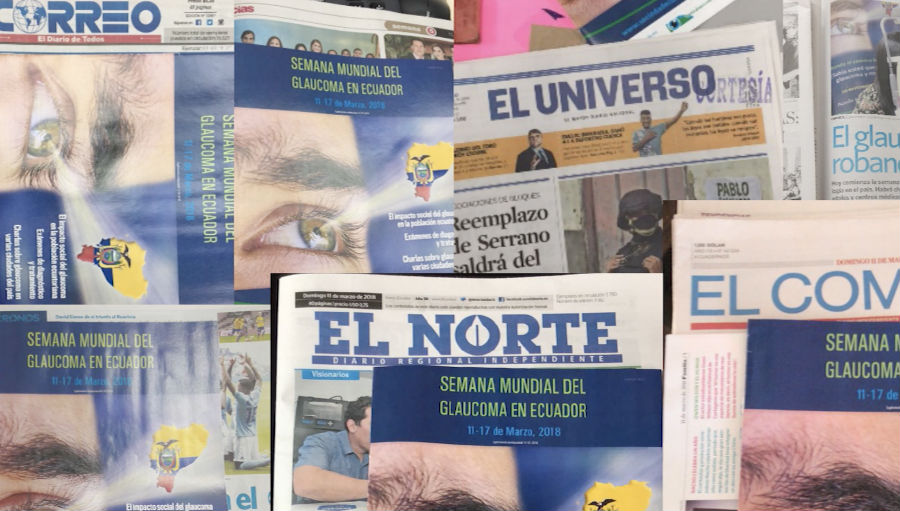 The World Health Organization reports 2.2 billion people in the world have some degree of visual impairment and blindness, of which more than 1 billion is due to preventable or treatable causes.  Around 90% of this is concentrated in developing countries.  There are 80 million people diagnosed with glaucoma in the world, of whom 8 million live in Latin America.
Glaucoma is the leading cause of irreversible blindness in the world, with 11.2 million bilateral blind people.  It is estimated that even in industrialized countries, half of the patients with glaucoma do not know that they have glaucoma, and in developing countries, up to 90% of the affected individuals are unaware of their condition, and once blind, do not know what caused their blindness.
In my country, Ecuador, there is little information regarding the prevalence of glaucoma. However, some local studies report the causes of unilateral blindness as: cataract (43%), corneal pathologies (17%), and glaucoma (15%); and for bilateral blindness: refractive errors (37%), cataract (23%) and glaucoma (17%).  The Ecuadorian National Council for Disabilities (CONADIS) reports that visual impairment is responsible for 12% of total disabilities in Ecuador and that 65% of the cases are in people over 36 years of age.  This data shows the need for prevention through early diagnosis and proper management of the disease.
There are several factors that prevent early diagnosis leading to a large percentage of cases that are diagnosed with severe visual impairment or blindness at the time of diagnosis:
The silent nature of the disease in its early stages
the lack of awareness about the importance of prevention in glaucoma
poor knowledge about risk factors
the limited number of eye care centers and trained health providers
low accessibility to education tools or resources,
and poor integration between health services and health administration are the main factors that are leading patients to blindness from glaucoma in countries such as mine.
In consideration of these needs, which are similar to those in other regions of the world, the World Glaucoma Association and its World Glaucoma Patients Committee, together with other blindness prevention associations organize the World Glaucoma Week. In Ecuador, this campaign has gained significant strength in the last four years.  The conjoint work of the national ophthalmological community, social media, and the ophthalmological industry, coordinated by the Ecuadorian Glaucoma Society, has developed efficient methods that have allowed the establishment of an extensive communication platform that reaches the community with a unified awareness message.  We provide informative talks aimed at glaucoma patients, their families, and the general population throughout the country, conduct interviews, and educational programmes on television, radio, digital media, and edit and publish informative brochures and magazines circulated in newspapers nationwide.
The first step in this process was to awaken the interest in and facilitate the understanding of what glaucoma is and its impact on our society among journalists across the media of the country;  this generated social responsibility of providing education as an ideal tool to reduce the socio-economic burden that this visual disability represents to  our country.  Likewise, this stimulated most ophthalmologists nationwide, and private, social security, and government institutions to join in this campaign.
"If you want to go fast, go alone, if you want to go further, go accompanied," African Proverb.
---
LA EDUCACIÓN COMO HERRAMIENTA DE PREVENCIÓN DE CEGUERA POR GLAUCOMA
La Organización Mundial de la Salud reporta la existencia de 2.2 billones de personas en el mundo con algún grado de discapacidad visual y ceguera, 1 billón de estos casos son debido a causas prevenibles o tratables. Alrededor del 90% de esta carga mundial de discapacidad visual se concentra en los países en desarrollo.  Existen 80 millones de personas diagnosticadas con glaucoma en el mundo, de las cuales 8 millones viven en América Latina.
El glaucoma es la primera causa de ceguera irreversible en el mundo con 11.2 millones de personas ciegas bilateralmente por esta enfermedad.  Se estima que en los países industrializados la mitad de los pacientes con glaucoma aún no saben que lo padecen y en los países en desarrollo hasta un 90% de los individuos afectados no saben que lo están y una vez ciegos no saben que les ocasionó la ceguera.
En mi país, Ecuador, existe mínima información en cuanto a prevalencia de glaucoma, sin embargo, algunos estudios locales reportan como causas de ceguera unilateral: catarata (43%), patologías corneales (17%) y glaucoma (15%); y de ceguera bilateral: errores refractivos (37%), catarata (23%) y glaucoma (17%).  El Consejo Nacional para la Igualdad de Discapacidades del Ecuador (CONADIS) reporta que la discapacidad visual es responsable del 12% del total de las discapacidades en el Ecuador y que el 65% de los casos corresponden a personas sobre los 36 años de edad. Estos datos revelan la necesidad de hacer prevención a través de un diagnóstico temprano y de un buen manejo de esta enfermedad.
Existen varios factores que impiden realizar un diagnóstico temprano lo cual  conllevan a que un gran porcentaje de casos sean diagnosticados con un grado severo de deterioro visual o que estén ciegos al momento del diagnóstico. La naturaleza silente de la enfermedad en sus primeras etapas, la falta de concientización sobre la importancia de la prevención en glaucoma, el pobre conocimiento sobre los factores de riesgo, el número limitado de centros de atención ocular y de prestadores de servicios entrenados, la escasa disponibilidad de herramientas o instrumentos de educación para la población, y la pobre integración de los servicios y los sistemas de salud, son los principales factores que están llevando a los pacientes a la ceguera por glaucoma en países como el mío.
En consideración a estas necesidades, que son similares a las de otras regiones en el mundo, la Asociación Mundial de Glaucoma y su Comité Mundial de Pacientes con Glaucoma en unión a otras asociaciones de prevención de ceguera, organizan La Semana Mundial del Glaucoma.  En Ecuador, esta campaña ha tomado gran fuerza en los últimos 4 años, donde el trabajo en equipo de la comunidad oftalmológica nacional, de los medios de comunicación y  la industria oftalmológica, liderado y coordinado por la Sociedad Ecuatoriana de Glaucoma, ha desarrollado métodos eficientes que han permitido levantar una amplia plataforma de comunicación que favorece el llegar a la comunidad con un mensaje de concientización unificado de gran impacto, a través de charlas informativas dirigidas a pacientes con glaucoma y sus familiares, y a la población general en todo el país, así como, entrevistas y programas educativos en televisión, radio, medios digitales y con la edición y publicación  de folletos informativos que circulan con los principales periódicos a nivel nacional.
El primer paso en este proceso fue despertar el interés y facilitar el entendimiento de lo que es glaucoma y su impacto en la sociedad, entre los periodistas de los diferentes medios de comunicación del país; esto permitió generar en ellos el compromiso de asumir la responsabilidad social de impartir educación como una herramienta idónea que permita disminuir la carga socio-económica que esta discapacidad visual representa para nuestra comunidad. De igual manera, esto también estimuló a que la gran mayoría de oftalmólogos a nivel nacional e  instituciones privadas, de Seguridad Social y públicas gubernamentales se unan a esta campaña, entendiendo que a esta lucha contra la ceguera prevenible por glaucoma, estamos convocados todos.
"Si quiere ir rápido, vaya solo, si quiere ir más lejos, vaya acompañado", Proverbio Africano.
GA 2020 – Act Now!
The IAPB Global Assembly 2020 (GA2020) programme has several sessions on Glaucoma. If your work is around the topic, do submit an abstract–the sector needs to know!